TINA - multi-market travel ERP
One of the most common pain-points for travel agencies has always been the burden of manual processes. And of course, "errare humanum est", the more people the higher number of errors with direct impact on customer experience and even becoming a weakness for the overall business.
All the manual work is also very time consuming, leads to delays and inefficiency and, finally all of these will translate into high operational costs.
Robust technology such as TINA ERP can really make a difference and help travel agencies gain a competitive advantage on the market.
There are different levels of automation and close to 100% can be achieved today. The necessary technology is here and there are travel agencies that already benefit. There is a mix of features, mandatory in a solid travel ERP that helps automate the processes, and with TINA you can benefit of them:
Quality control rules ensure input data is accurate and mandatory fields are always filled in.
Corporate fare rules ensure the management of hundreds and thousands of different tariffs and rules a TMC (travel management company) can deploy for its corporate customers to achieve competitiveness and flexibility in serving their needs. As these rules are defined by a contract it is mandatory to be correctly enforced. Using TINA, the corporate customer gets automatically access to the price and the rules from his contract
Automatic invoicing allows all reservations made in various GDSs (Global Distribution Systems) and other systems to be processed and a cumulated invoice to be issued following the rules agreed with the customer, without human intervention
Automatic balancing will ensure all the transactions made by end-customers and agency suppliers are matched and it creates the basis for the agency to get accurate reports and understand its business
Automatic reports will create rules for customized reports to be issued and sent to the customer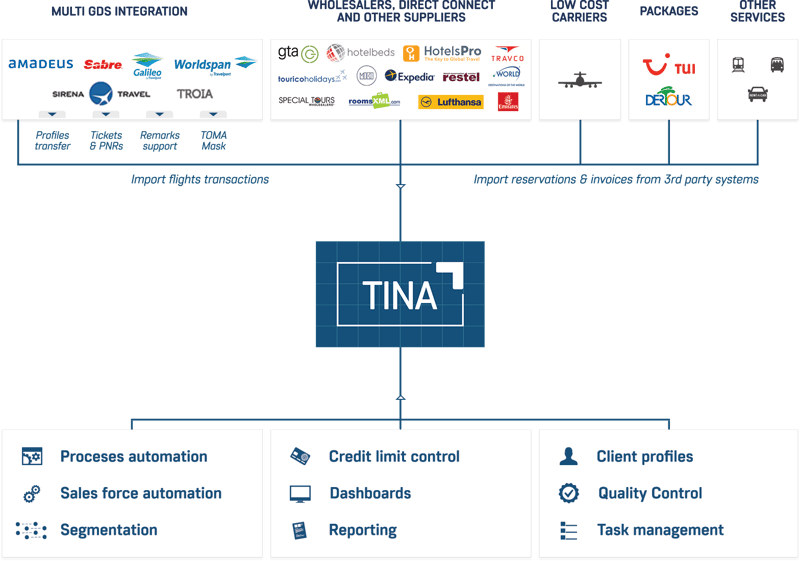 Starting with automated processing of bookings made in 3rd party systems, continuing with customer profiles, invoicing and settlements, as well as automated reports and alerts regarding your agency's performance, TINA travel ERP solution can help you increase speed and productivity.
TINA is one of the world's most advanced travel ERP systems and it is favored by members of global TMCs such as Lufthansa City Center, BCD Travel, Egencia, GlobalStar, HRG, FCM Travel Solutions, Radius Travel, American Express and Uniglobe Travel.

Get in touch with us and find out exactly how TINA software can improve your travel processes and reduce your operational costs!