Distribute your travel services using a catchy Travel Booking Kiosk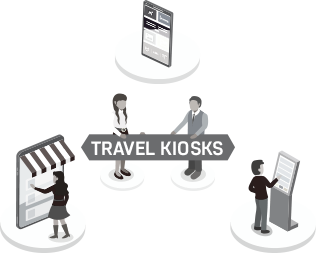 In a crowded marketplace filled with competing services and offerings, one of the biggest challenges faced by travel agencies and tour operators today is represented by the distribution process. You know that your official website is no longer the only key element in your marketing and distribution strategy. You should rapidly adapt to the changing booking habits of today's travlers. You know they are tech-savvy and multi-screen users and often make emotional decisions. Then why wouldn't you bring your travel products and services at their fingertips?
Be the one who creates your customers' needs and then come up with the right tools to meet them!
It's time to enjoy the benefits provided by our Travel Booking Kiosk:
a smart and catchy selling channel, available 24/7
the perfect way to increase revenues by displaying your services in any place you wish (e.g.: Metro stations, Office buildings, Lounges, Airports, Hotel lobbies etc.)
sophisticated, yet user friendly interface that fits your brand, being customizable with your banners, colors, themes, etc.
you can run our platform on any hardware device that you may choose (any size, either landcape or portrait)
a simple way to meet customers' demand for self-service
an interactive way to make your whole range of services available for booking
an easy way to promote which travel offers you desire at a particular time or highlight certain service features
display outstanding widgets and interactive maps for your customers - just a touch away!
You shouldn't neglect the boost in volumes that can be easily brought by the special offers displayed in the right place and at the right time.

You can run an unlimited number of kiosks in different places, and on each one you can deliver customized content and different pricing.