TINA Mobile Reports - the travel business control tool in your pocket
You need to be in control every single moment, to keep up to date with everything that happens in your travel agency. You'll say it's simple and straightforward as long as you use TINA travel ERP - this robust system which connects, integrates and automates all your travel processes, allowing you to reduce operating costs, boost productivity and that provides full control and visibility over your business.
But now, you can enjoy visibility and control in a much simpler way with this mobile application that will save you time and will empower you wherever you are. You can start to take advantage of the comprehensive reporting features provided by TINA, whenever you want, no matter where you are. We developed TINA Reports Mobile Application - the control tool that fits in your pocket.
TINA Mobile Reports was developed for smart phones and tablets and is available on both iOS and Android. You'll get instant visibility of what happens in your travel business - the information that you need is just a tap away. This is the fastest and the simplest way to monitor your financial data accurately and easily at any time of the day or night.
With TINA Mobile Reports you'll get direct access to all the information that you have configured in your TINA Dashboard. The application makes it possible for you to see financial information in tabular or graphical form regarding:
t

op bad debt customers

t

op unpaid suppliers

a

cquisitions and sales overview

s

ervices sales evolution and other useful details.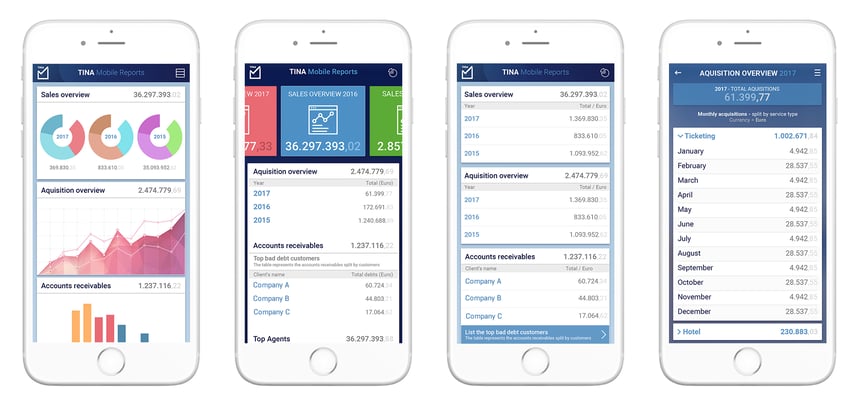 All these data will help you in making well-informed decisions: starting from evaluating the current state of your business you can analyze, forecast and better plan your future business strategy.
Get in touch with us and let's talk about how you can get access to TINA Mobile Reports! Fill out the form enclosed.