dcs plus solution for PCOs
The Travel Services Management solution that we created for all congress organisers has two goals:
to offer a simple automatic booking process for both you and your congress attendees
to give you the right tools to maximize the profit for each congress
We know that managing the logistics of a congress is a multi-step process that requires a lot of resources and attention, so we found a way to remove the hassle brought by the accommodation part. This is why we designed a full automatic solution starting from dcs plus enterprise products TINA, IRIX and AIDA. The solution is being used by one of the biggest congress organisers in the world, Kenes Group.
How it works?
Imagine a standard booking process, split in the following steps:

Even though it looks very simple on the outside, the travel services management part of the congress organisation can bring a lot of hassle. One of the main reasons for this is the fact that large congresses usually need a lot of accommodation units, and all the reservations are performed in a short period of time. This is where each PCO encounters the first issues with the accommodation:
the need for a large number of accommodation units
high prices for the accommodation
high number of employees needed to service the increased number of requests for a short time
We have addressed each of this problems:
Solving the need for a large number of accommodation units - If you need a lot of rooms to be available in a short period of time, the solution is to ask for these rooms to a large number of suppliers. This is why the solution includes an aggregation engine, in which you can add content from most of the largest wholesalers. Each search is sent to all the suppliers connected, so your customers will see the best available offers and availability from all suppliers.
Solving the issue with high prices for the accommodation - One way to maximize the revenue from the congress and make your customers happy is to make sure that your attendees find a place to stay that is both available and convenient. You can make sure that this happens by signing contracts with the accommodation units and serving the rooms directly from your own inventory. All hotels are unified in a single list, displaying rooms from both your own inventory and wholesalers. Moreover, you can push your own hotels up in the list, add them as recommended or display only rooms from your own inventory for particular congresses.
Solving the need for more employees - The solution runs full automatic. Once you created the congress page, the attendees search for rooms, select the nearest hotel to the venue, pay using their credit card and receive both the room voucher and the invoice automatically, on their e-mail address. Everything is a lot simpler for you and your attendees.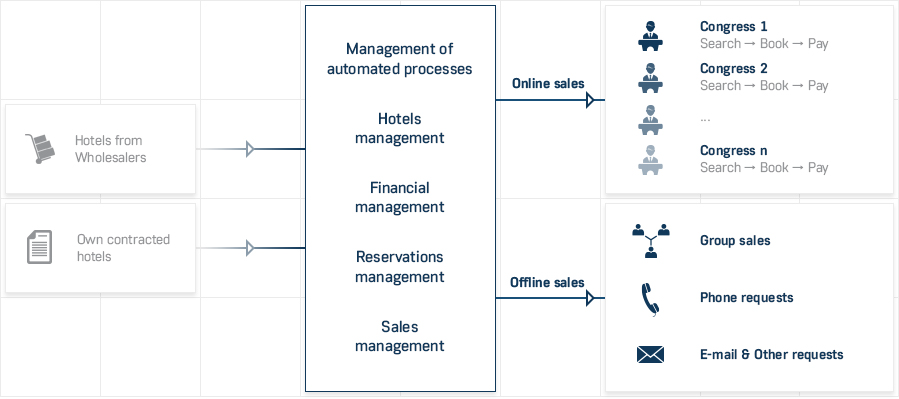 Combine inventory from wholesalers with own hotel contracts
Define allocations and commitments for own contracts
Set allotments for groups
Setup automatic price rules per congress/market/location/etc.
Manage mark-up and comission per congress, sales channel or supplier
Add relevant hotel information for attendees
Define what suppliers are available for each congress
Issue automatic invoices to clients in different formats depending on congress location
Issue automatic receipts depending on congress location
Issue cumulated invoice for groups
Accept Credit Card payments and automatic processing of the payments
Automatic balance between supplier invoices and issued invoices
Export fiscal data to your accounting software

Integrate financial content from accounting software

Generate inventory, reservations and financial reports for both you and your large customers.
Manage reservations received on all sales channels, online and offline
Manage reservations both automatic or manually
Setup automatic price rules that include comission, mark-up, special offers, recommended locations, etc.
View reservation history, payment information, reservation status
Sales Channels Management
Manage sales channels, offline and offline
Create congress pages with available booking dates default form dates, venue location, venue image and description, congress options
Manage available payment methods per congress
Manage banners and background images for each congress
Manage availability and offers depending on sales channel
Management of automated processes
Manage automatic invoicing rules
Manage automatic reservation processing rules
Manage automatic quality control tools
Manage automatic notification rules
Manage other automatic processes
We know that each congress is different, so we included a lot of features that help you keeping them organized:
Add banners for the main sponsors on the dedicated congress page
Keep the search/ booking process as simple as possible for attendees by adding congress start/end dates and default search dates
Add information about the congress venue - the system automatically calculates the distance from all hotels to the venue, so your attendees will be able to find the nearest hotel that has available rooms
Each congress has its own regulations so we make sure that you can meet all standards:
enable/ disable possibility to search 4*, 5* hotels depending on regulations per congress
enable/disable the possibility to search occupancies with children per congress
create reports per each congress
add a different payment/ bank account for each congress.
Want to discuss with our experts about how dcs plus' solutions are helping PCOs in their activities?