What is IRIX?
IRIX is a modular, function-rich, NDC-enabled travel reservation system that aggregates content from multiple travel services providers (selected at your desire) and resells the services towards different selling channels (B2B, B2C, corporate, white label) with fast integration time.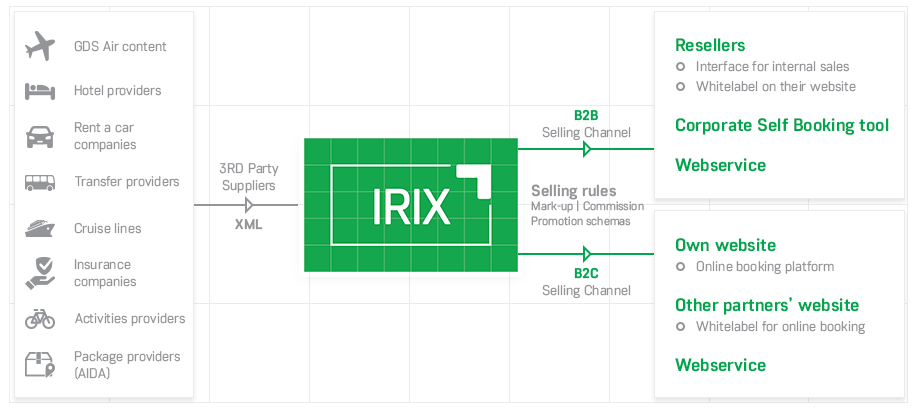 IRIX is the right choice for you:
The wholesaler that automatically distributes travel services to resellers/ subagents network
The business travel agency that services large corporates seeking advanced self-booking tools
The leisure travel agency that books from several providers to create leisure bundle packages for your customers
The online travel agency that requires a powerful aggregation engine to feed your B2C portal
The events/ congress company that seeks to bring automated booking functions in your portfolio
The company that can use IRIX as an universal API/XMLs umbrella for feeding its own distribution interfaces with aggregated travel content
The booking platform started as a comprehensive front office online booking system, and it was enriched with mid back office features in order to create a complete online travel booking solution. You will be able to scale your business and have a huge competitive advantage in the market through technology and the latest content from the agreed suppliers.
IRIX - as a Content Aggregation platform
IRIX provides you with access to a permanently expanding supplier network with just one integration. With just a simple log in, users see the best availability and price into a single screen. IRIX ensures seamless connectivity and integrations with flight, hotel, car rental, transfers, cruises along with activities, insurance, vacation packages and payment gateways.


The ultimate booking experience for flights
Better options with greater transparency of flight fares
More choice based on individual and corporate travel needs to increase customer loyalty
Revenue generation opportunities through proactive selling
One-click comparison of all available merchandising options for flight services
Branded fares/ Fare family
By using IRIX, your travel agents will have the possibility to personalize and customize each flight booking based on your customers specific needs with just one click. Apart from the extra revenues that you might gain, there is also the additional service, which leads in turn to improved customer loyalty. Being able to offer access to branded fares directly in IRIX will translate into an increased level of efficiency for your travel agents and cost savings for your travel agency.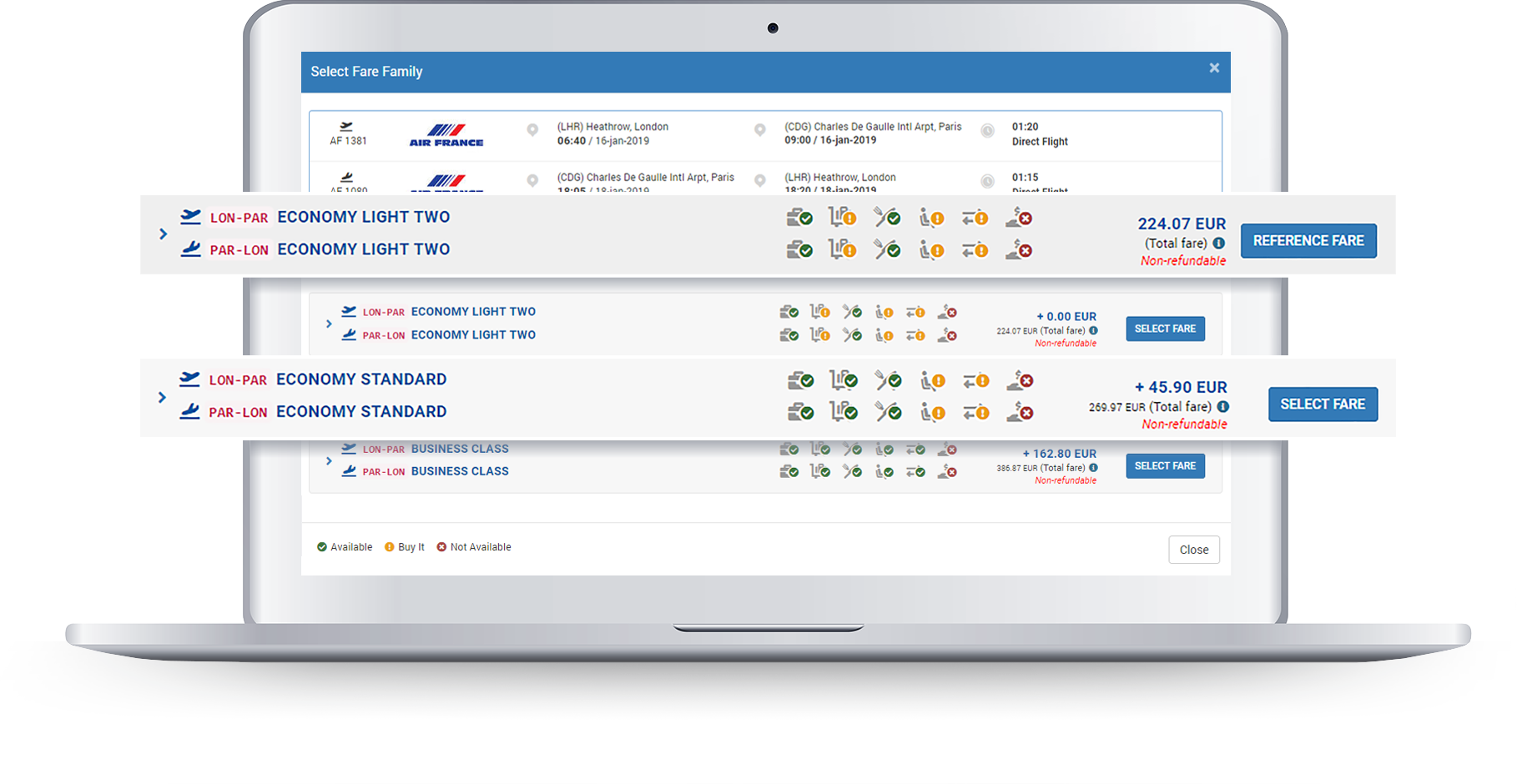 Negotiated & corporate fares
With IRIX you can easily manage all your Negotiated Fare content from the platform, so your travel agents can search and book directly from the booking engine accordingly.


Smarter & faster search for hotels
Searching for the perfect accommodation for your customers without losing too much time, is probably one of the biggest challenges faced by your travel agents. With features like "search by point of interest", "meal-type", "cancellation policy" available in IRIX, your travel agents can search smarter, faster and book the best accommodation option for your customers!

Unique search results
Display your inventory accurately to your customers by automatically mapping your content. You should keep up to date with the latest additions provided by the suppliers. IRIX matches the elements replicated into multiple wholesalers by joining them into single elements. For this process, the system provides 2 options:
Automated matching - Using complex algorithms, a first level of mapping is automatically provided by IRIX, process that requires no operator intervention
Assisted matching - IRIX provides matching suggestions that need to be validated by the human operator
The matching process can be stressful, complicated, costly and time consuming. You choose if you want to deal with it or to get rid of the hassle, by outsourcing it to us. Our team can do it for you: faster, better and cheaper.

IRIX - as a Content Distribution platform
Needless to say that in travel, distribution is a key element to growth and sustainability; thus, a diverse and highly spread distribution network is very important to increase the sales volume. With IRIX, you can create unlimited number of resellers who will access your travel content for selling.
With IRIX you can manage the following Distribution Channels:
B2B Resellers Network: Interface for internal sales & whitelabel on their website
B2B Corporate: Interface for your corporate customers account & Intranet/Extranet
B2C Online Website for your end customer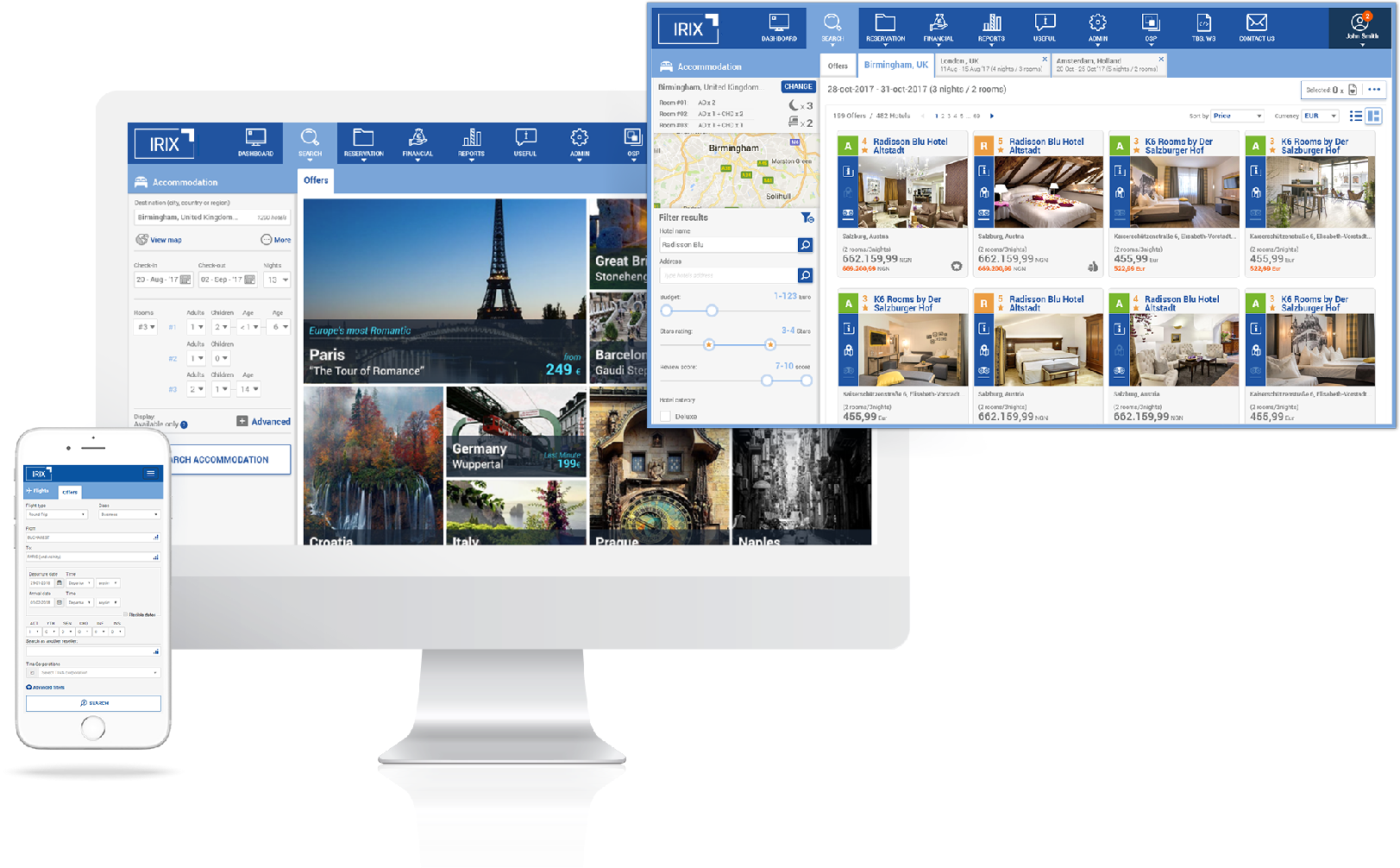 No one-time fees for new suppliers & no transaction fees
The pricing structure of IRIX may be considered an essential competitive advantage for your agency, as no one-time fees are requested when adding additional suppliers. You can add, remove or change them in a very flexible way and without having the risk of paying initially. This way, you won't be overwhelmed by the initial investment and you'll have the possibility to focus on other investments that will help you to grow.
With TRIP – the B2C platform add-on, you can sell travel products directly to the end consumer, the traveler, and you can offer your travel content to your online users on an attractive website. With B2C online module, they will be able to easily search, book and pay with credit card for your travel services from your responsive website.
IRIX - Latest Updates
Since the beginning of dcs plus, we have put our customers' needs first with one main mission in mind: to generate added value to their businesses. We keep our promise to constantly research, innovate, and invest in our technology, to keep it ahead of the curve.
The latest IRIX updates we have developed for your agency to benefit from:
TravelClick Channel manager integration