A Corporate Self Booking Tool for your corporate customers
You, as a travel management company, should focus on upgrading your traveler-facing technology and on improving your customers travel experience. Travelers' expectations regarding technology and service are rising – they are looking for robust booking tools and more control over their trips.
Our Corporate Self Booking Tool NOVA was designed to simplify the complex travelling process for the corporate customers so that TMCs and corporations can focus on their core business.
Using NOVA you can offer your corporate customers an optimized and straightforward travel management process, as everything happens automatically – from searching process to the final reservation.
How NOVA works?

Use your own content
The Corporate Self-Booking Tool provided by dcs plus brings you full content freedom. Having pure neutral content, the platform allows you to put up for sale the travel content that you have contracted from your chosen suppliers. You know what works best for your corporate customers and you decide what to offer them. Commercial airlines and low-cost carriers, through GDS or Direct Connect option, hotels from the wholesalers that you have agreements with or your own contracted hotels – it's all up to you. The autonomy brought by this business model translates into increased flexibility in setting trade policies.
Tailored for each company
NOVA platform is scaled to the business travel needs and requests of your corporate customers. This tool allows the corporate travelers to search through your travel content database and further book if they comply with the travel policies in place in their companies, otherwise the request passes through an approval chain.
The ability to control what your corporate customers can book and ensure that trips are properly approved is increasingly important for the companies you work with.
Our solution allows in-depth definitions of travel policies and configurations of approval chain profiles and approval workflows having the possibility to define them per user or per user groups.
Key Features
NOVA is the right solution that you can provide to your corporate customers looking to maximize value from their travel spend.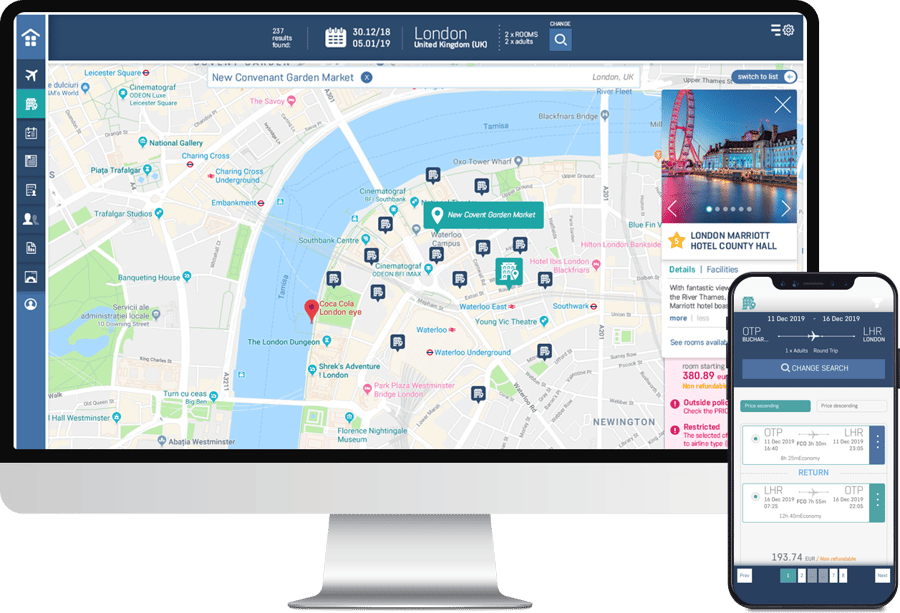 Fast search response time
Time saving
Your own content

Intuitive, user friendly interface

Easy self-planning & self-booking
Elimination of overspending caused by out of policy bookings
Efficient booking workflow through automated processes
Customize account set-up and user control to reflect your company travel policy
Automated policy validation
Multiple workflows for approval
Cost Centers
Advanced user profiles
Advanced travel policy
Guests
Approval chain
Remarks configuration compatible with GDSs and your Mid Back Office System
Corporate reports
Among the multitude of great corporate self-booking tools available in the market today, NOVA is the one that you can really afford to use for your corporate customers.
Find the right travel technology for your corporate travelers!