Are you a travel wholesaler, looking for content aggregation, increasing sales and margins and development of new distribution channels?
Working with various travel wholesalers from different geographical locations, we gained an extensive experience in the field, fact which allowed us to build a robust software solution, suitable for travel consolidators and distributors, from very large to small ones.
Through dcs plus technology, you can manage all your travel operations in a single software platform:
Multiple suppliers management
Travel services aggregation and consolidation (best price and best availability)
Content mapping and deduplication
Affiliates network management
Payments (credit limit, autocancellations, credit card)
Reservation management
Delivery on multiple points of sale
Reporting
Capture a wide variety of travel services via XML, that you can contract directly, such as: flights, hotels, cars, transfers, Wholesalers, Channel Managers, PMS or other systems and further distribute the services online (through web affiliates or by whitelabel on various websites) or/ and offline, or through third party software systems (via XML/ API output).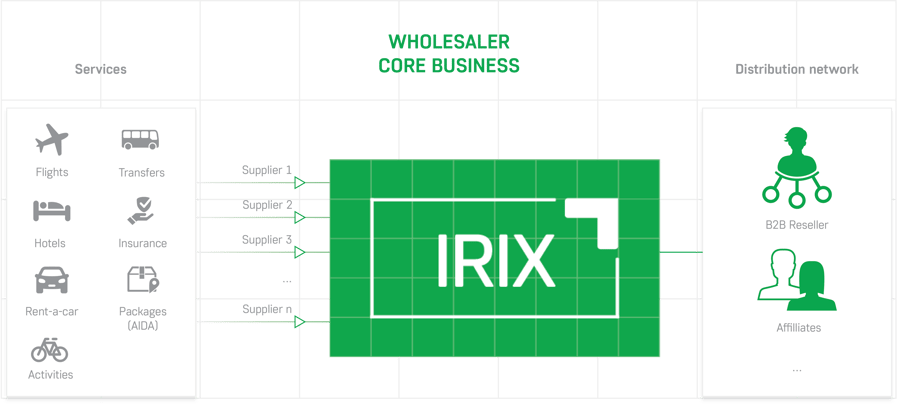 With IRIX, you can:
Provide your customers a seamless connection to a large choice of global travel suppliers, in a one stop shop

Build large travel distribution networks

Manage the bookings and track performance on each selling channel

Offer best price and availability to your partners
Control prices - negociated rates with each supplier: direct agreements, mark-ups, commissions
Offer credit limit facilities, according to your agreements
Tweak volumes on preferred suppliers in order to reach incentive targets
Be accessible and maintain competitive prices
Always deliver the highest quality of service

Enhance your products and services continuously to meet current and future market needs

Provide your affiliates a reliable, flexible and user friendly online booking system.
Wide choice, great cost saving opportunities and high speed distribution in a single, reliable booking engine.