The travel industry is moving towards increased personalization, as merchandizing techniques drive new revenues and business opportunities, and as travelers expect brands to know them and adapt offers accordingly. It is against this backdrop that dcs plus continues the investment in NDC movement and announces the latest integration of Amadeus NDC[X] content in IRIX Booking Engine.
New, richer, more innovative content and more tailored offers for your travelers
We take care of the complexity of integrating different NDC APIs, so you can search, book and manage different airlines' NDC and other content in the same way. With the latest integration of Amadeus NDC[X] flight content in IRIX, we unlock new types of offers from the airlines available in the program and it's an opportunity for the industry to come on board with the latest retailing capabilities for flight content.
The NDC-X program is a continuation of Amadeus' previous work towards the digitalization of the industry and the creation of commercial possibilities to build on NDC. While it gives your travel consultants access to NDC content directly in IRIX, it doesn't cause any disruptions to their typical business processes, as they are still booking in a familiar technology environment together with the other flight suppliers your are using.
NDC holds great potential for the travel industry, and is part of a bigger picture of digitalization as airlines and travel sellers are testing new ways to adapt their businesses and improve services provided to the traveler. At dcs plus, we are working to overcome distribution challenges of travel agencies and upgrade the technology in areas such as merchandizing and content options of NDC offerings. It's critical we have a trusted technology partner that can provide you with the infrastructure to stay ahead of the curve of NDC movement.
Unlock all the functionalities and unlimited suppliers with no additional costs for your booking engine!
IRIX is a modular, function-rich, NDC-enabled travel reservation system that aggregates content from multiple travel services providers (selected at your desire) and resells the services towards different selling channels (B2B, B2C, corporate, white label) with fast integration time.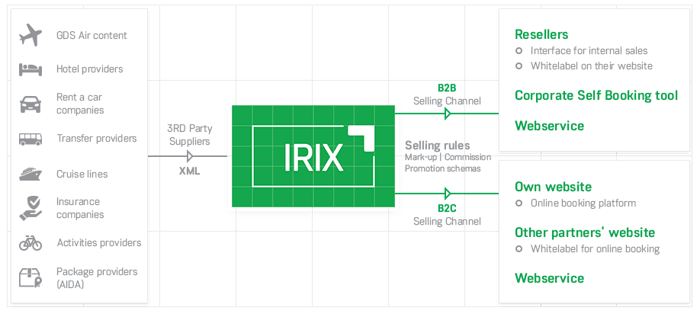 Access new, richer, more innovative content and more tailored offers for your travelers through Amadeus NDC[X]!