The travel agency has seen its share of changes over recent years. Marketing channels used to be called the front door of the agency or the telephone. Then online booking arrived in the travel industry, bringing with it: pricing transparency; e-commerce; new distribution relationships and altered commission structures.
For most travel businesses the first reactions to these change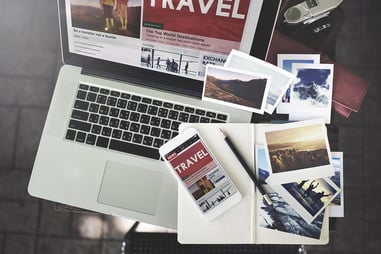 s were reactive changes to their business models – and it made sense. When price transparency drops margins and commissions are shrinking, finding ways to cut costs and increase efficiencies provides more immediate relief than creating new revenue streams with higher profitability. However, in 2016 proactive changes in travel agency business models will likely accelerate, particularly in the area of digital transformation.In the context of this article, digital transformation is defined as the re-engineering of a travel company's business model by the use of digital travel technology in order to improve its operational performance while elevating both customer service and value. The term digital refers to the means by which travel technology generates, acquires; processes and stores structured data – because digital data must be structured.
For example, invoices are generally submitted between travel companies electronically as structured data – each field is defined and the numerical or text information can be processed and stored in a database schema. However, if the invoice raises questions, supporting information could well be unstructured data; for instance, handwritten notes from a meeting. Unstructured data such as handwritten notes can't easily be processed and stored within a software system. Instead, they typically wind up in a filing cabinet as isolated information.
The 360 Degree Customer View
The 360 degree customer view refers to a complete view of a customer's relationship cycle with a company, from entry into the sales funnel to purchase and customer support services. This 360-degree view is only possible when a company is able to assemble, mine and analyze structured data from all the software systems the customer touches during the relationship journey.
Until recently a 360 degree customer view wasn't considered possible because available tools – CRM and transaction data – provided a narrow scope of structured data and therefore allowed only limited visibility into the relationship cycle. Now those tools have grown in sophistication and complexity, setting the stage for a digital transformation and a much more standardized flow of structured data across the customer relationship cycle. For example:
Customer Relationship Management: CRM systems have rapidly grown in sophistication and capability, with subsystems covering:
Marketing automation

: specialized CRM tools automate repetitive marketing activities, such as targeted emails or social media, across the sales funnel to turn leads into customers.

Sales force automation

: managed tracking of sales/customer interactions to maintain consistency and prevent duplications.

Contact center automation

: process optimization tools, ranging from self-help portals to desktop software that automates agent data retrieval and repetitive tasks.
ERP: smaller, nimbler systems targeted at specific industries – such as travel ERP – and smaller companies, support digital initiatives by replacing non-integrated silos of information with a common data model and repository.
Big Data & Analytics: an infusion of third party data which, together with a company's central data repository, supports analytic modeling to produce meaningful, predictive, reports and insights into customer behavior and buying patterns.
Travel Agency Benefits
For many travel agencies, creating a 360 degree customer view will be a major undertaking – requiring strong executive leadership along with a clear roadmap and resources for prioritizing and accomplishing the capture; cleansing; storage and analysis of structured data for each element of the customer relationship.
As daunting as the task appears, the benefits derived from robust customer knowledge justify the effort and investment. For example, the travel buying experience becomes the same for agency customers, whether they shop online by laptop or mobile device; call on the phone or drop by the storefront.
Post-purchase, the actual travel experience is heightened because it's design has been guided by specific information gleaned by third party Big Data – insights into other purchases and lifestyle choices – and social media monitoring – what comments & media have been posted for travel or other lifestyle activities?
Post-travel, the travel agency can use social media monitoring and Big Data analytics to anticipate changes to a customer's product/service preferences and lifestyle behaviors and fine-tune inbound marketing activities to maximize sales funnel activity and revenue generation.
Another benefit from digital transformation is the ability of a travel company to create and monitor an online community; a forum in which customers can post travel reviews and recommendations, pictures or video with commentary. An active community provides a great opportunity for the company to interact with customers; answering questions, resolving concerns and providing specialized travel knowledge via agent chats. Communities are also a source of good ideas directly from travel company customers.