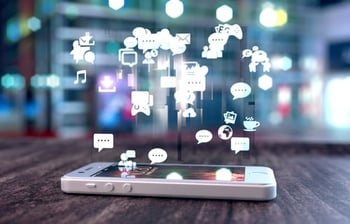 There's been something of an arms race during the last few years in the travel industry as travel companies seek new, exciting, and innovative ways to invigorate customer engagement and relations leveraging technology as a method to reach more people more quickly. With an eye to technological advancements at all touch points in the value chain - from customer service to operations and planning - the name of the game in the last 5 to 10 years has been streamlining ways of managing the communication of products and services for the good of the travel company and customer alike.
The first wave of this movement centered on the use of social media platforms like Facebook and Twitter, these virtual spaces where travelers connect and share ideas. The second wave was - and arguably still is - mobile technology and the ability for travelers to research, purchase, modify, and review bookings on their smartphones, tablets, or other mobile devices - essentially giving today's traveler the ability to evaluate and share their travel experience in real-time as they're experiencing it.
And the third wave? Ask many travel industry analysts and they'll tell you instant messaging technology is the new frontier in this arms race of communication, the impact of which - both internally in terms of operations and externally with customer relations - will significantly change how the travel industry functions.
First, as with any movement in any industry, it's important to understand this move toward adopting instant messaging technology does not exist in a vacuum - instant messaging tech has been on the rise both in a larger cultural context and in other industries for some time, and the travel industry is just now starting to reckon with ways to implement it. According to a report by Forrester Research, more than 40 percent of today's consumers value a company's capacity for online instant messaging as a key service, one that significantly differentiates one company from another.
In addition, the rise and proliferation of mobile technology and website responsiveness across a variety of platforms has made it easier than ever for consumers to engage in real-time with a company's products and services while on-the-go.
Now, let's look at the travel industry. A recent report by travel industry publication Skift highlighted the rise in popularity of instant messaging applications during the last four years. Messaging platforms like WhatsApp, Facebook Messenger, and WeChat all have monthly active users well above 500 million, a figure that is poised to increase more in the coming years. As a result, several major companies within the travel industry - Hyatt most notably - have already began attempting to leverage this instant messaging applications in an effort to reach this massive market share.
But how? And why? What is it about the prospect of integrating instant messaging capabilities into a travel company's existing technology strategy that is so inviting? What's the value proposition in engaging in a medium that more often than not is used strictly for social interactions - for example, making weekend plans or talking about the latest superhero movie?
For one thing, instant messaging apps straddle the fine line between the quick, efficient communication and booking millennial travelers seek coupled with the personalized level of service many older travelers are accustomed to via brick and mortar travel agencies. In a sense, leveraging these online messaging apps gives travel companies a firm footing in two of the largest pools of travelers in today's market. The ability to communicate with travelers in real-time - and the ability to assist travelers in making, modifying, and reviewing bookings - also provides travel companies with in-the-moment evaluations of products and services which can help drive supply, planning, and marketing of these goods in cost-effective, profitable ways.
Secondly, travel companies need to think of instant messaging technology as a method of process automation. Here's an example: A business traveler's flight has been canceled due to mechanical issues with the airline and he needs to book a replacement flight immediately. However, given he's in an unfamiliar city, he's not well-acquainted with the best air carrier or route for his flight, which prompts him to call his travel company for personalized assistance rather than utilize a mobile device. Because of the call volume, our traveler is forced to wait and is then transferred two or three times before finally reaching the appropriate customer service representative. This process is costly, time-consuming, and horribly inefficient for the traveler and the travel company, who has invested a lot of capital and personnel in managing this customer service scenario.
With an instant messaging app, our traveler could simply log onto the company's customer service portal and be connected with a representative with a fraction of the time and cost relative to a traditional phone conversation. Additionally, with a responsive, integrated platform, our traveler could also received confirmations, receipts, and other digital travel documents in real-time via the messaging app while maintaining a dialogue with the travel company's rep.
Given this example, it's not hard to see how instant messaging technology utilized in this manner would be a priority value proposition for any travel company in today's increasingly digitized, global market. The ability to not only engage efficiently and directly with customers via a platform they're familiar with and use in their daily lives already, but also one that is inexpensive to implement and easy to operate, is a boon for travel companies searching for ways to leverage efficiency and complete optimization across all points in the value chain.
Thinking back to Skift's report about the last four years in instant messaging apps, it's difficult to see where exactly instant messaging will go in the future and how travel companies will implement it as part of their overall sales, operations, marketing, and customer relations strategies. With the rise of somewhat associated technologies, particularly cognitive computing, perhaps the future of instant messaging will incorporate a cognitive component where voice recognition software and chat functions will help tailor travel bookings or destination recommendations?
Or perhaps instant messaging platforms will merge with cloud computing technology where Big Data and real-time messaging interactions will drive more interesting products and packaging?
Whatever the case, it's clear the travel industry has gotten the message that instant messaging is going to be a part of the industry's short, mid, and long-term future.