The travel industry is shrinking. Well, not necessarily the industry per se - in fact, reports from business groups and publications indicate travel was one of the most burgeoning industries in 2015 - but rather one of the primary ways travel companies interact with customers is getting smaller and smaller, more and more agile, in an effort to reach new customers and markets and maintain diversification and growth in 2016 and beyond.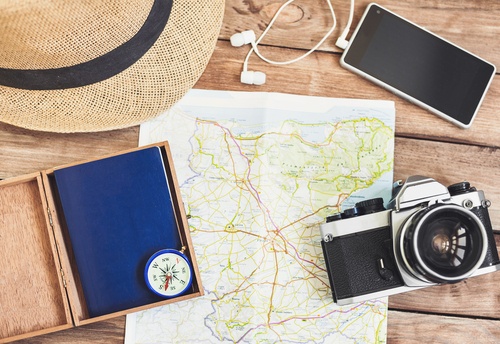 We're talking about mobile applications and how travel companies are leveraging the devices in your pocket right now to enhance their efficiency and agility in an increasing competitive global marketplace. Smartphones, tablets, laptops, and other mobile devices have not only changed the way customers research and book their travel arrangements, but they've also fundamentally shifted the way travel companies view devices as tools for continued interaction and communication with would-be travelers.
It's no secret today's traveler exists more and more in a virtual environment via the internet - in a fact, a study released last year by the internet industry company comScore reported mobile devices and related apps were one of the biggest drivers in how the average consumed media on a daily basis, with 88 percent of activity on smartphones and tablets stemming from apps.
With so much of today's e-commerce dependent upon mobile apps as a way of customer engagement and transaction, travel companies are betting big on providing travelers with responsive, user-friendly applications to serve their booking and travel needs. As you'll see below, here are 5 important ways travel companies are leveraging mobile apps to create lasting dialogues with customers and position themselves for success in an increasing digitized marketplace.
Customized Services
Because so much of an individual's e-commerce, business, social, and leisure life is entwined with mobile devices and apps, travel companies have started using apps as a way of targeting customers with customized services, special offers or promotions, discounts, and other perks. Imagine a business traveler is curious about the weather at his destination. A travel company could provide within their app a weather function in which our business traveler can view current and future weather conditions for his arrival, potentially with links and offers for activities based on the weather forecast. Customized services and integrations like this - be it travel for business, leisure, or a combination - provide travel companies a leg-up on the competition, but also gain valuable insights into the wants, needs, and priorities of their users.
Increased Communication
One of the greatest challenges for travel companies today - despite the expediency and ease of communication channels - is the ability to create conversations with customers that continue long after the plane touches down and the bags are unpacked. Mobile apps provide travel companies with an instant and intimate way to keep the conversation going with customers before, during, and after a trip. Whether it's requesting feedback about an activity or excursion a customer booked, offering similar travel packages, or providing key information about trends in tourism and travel in the hopes of sparking interest in exploring new destinations or activities, mobile apps offer travel companies a direct channel with which to nurture current customer relations and potentially expand that customer-base via word of mouth on social media or travel review websites.
Understanding the Consumer
Utilizing detailed data and metrics about where your customer spends his or her time online, what mobile apps they gravitate toward, what their interests are, and their expectations from a travel company or service are key drivers in sourcing the right products and services from suppliers in order meet your customer's needs. Essentially, travel companies have begun to view mobile apps as a testing ground or controlled environment where they can gain insights into the browsing and purchasing habits of their customers, and then acting on that data to create offers, discounts, promotions, and messaging that best targets a travel company's demographic.
Streamlining Transactions
Whether it's going paperless in providing customers with PDF files, digital receipts or confirmations, or perhaps even passports or other necessary travel documents, travel companies can use apps as a way to streamline transactions and provide travelers with the quick and easy e-commerce experience they've come to expect in today's fast-paced, digital landscape. Not only does a travel company's capability to provide transactional documents to customers via an app reduce the necessary resources and personnel to complete transactions, it also offers travelers peace of mind in knowing their accommodation information - confirmations, itineraries, boarding passes, etc - will be housed electronically for easy access in the future.
Connectivity
While somewhat related to maintaining the conversation with travelers after the purchasing experience - as well as giving customers a sense of satisfaction with how a travel company operates - mobile apps allow customers and companies to remain connected to each other every step of the way - from research to booking to the vacation itself and beyond. With so many channels available to customers to receive information about travel and tourism, the potential for a travel company's engagement efforts to become 'white noise' increases. However, mobile apps, especially those with a focus on the user, provide travel companies a path to cut through that white noise and reach customers in a medium where they're not only experienced, but spending an increasing majority of their time.
Download our free eBook and find out more insights about the role of mobile apps in travel!