Recently I was on a cross-country flight and had the dubious, yet fortuitous advantage of being booked into the middle seat with a senior traveler on one side and a much younger traveler on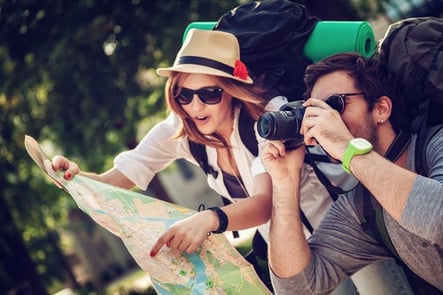 the other. After take-off the older traveler quickly delved into a book while my younger traveling companion pulled out his smartphone and began checking social media websites like Twitter, Facebook, and Instagram. It was an interesting dichotomy without doubt, and one that got me thinking: Which one of these demographics is the travel industry's best bet for growth and profitability? And how can travel companies best vie for their attention?
It's an interesting and complex notion.
If you look at the numbers, one would think senior travelers - those 60 years and older, also referred to as Silver Travelers - would have the upper hand given their larger pool of disposable income and propensity for more leisure travel - strange as it seems, seniors are also a growing segment of the travel market given increase life expectancies, and some organizations report seniors will make up more than 20 percent of the world's population by 2050.
On the other hand, millennials, with their value on experiences rather than possessions, are a burgeoning sect of the travel and tourism industry. It's estimated millennials spend roughly $200 billion per year on travel and make up 22 percent of all travelers. Their propensity to explore new and emerging markets also make them an exciting demographic for travel companies to pursue.
So if I'm a OTA, TMC, or travel agency, which pool of the population offers the greatest ROI? Do I play the long-game or the short-game in terms of marketing travel and destinations? Before we can make that determination, it makes sense to examine each demographic with a little more care.

Silver Travelers

While it's a well-established fact millennial travelers have altered the way travel companies operate from resource planning and booking capabilities to marketing and internet-based strategies, senior travelers still have much influence to leverage in how the tourism industry positions itself, and some industry analysts believe the increasing number of senior travelers could actually reverse or slow the changes millennials have forced the travel industry to undergo.

How? For example, let's look at these factors:
Domestic over international: According to AARP, a majority of seniors prefer domestic over international travel destinations. They're less interested in exploring new and emerging markets and more interested in revisiting destinations from their past or ones that are closer to home.
Multi-generational trips: Seniors are more inclined to travel with their children, grandchildren, and other members of their extended family. These multi-generational trips significantly increase Revenue Per Available Room (RevPar) as these trips often include multiple bookings for flights, hotels, attractions, dining, and more.
Types of travel: Luxury travel, cruise-based travel, travel groups, and other pre-packaged destination bookings are of greater interest to seniors who want the experience of seeing multiple destinations or sights but with an unpack-once mindset. These types of tourism also lend themselves to more static packaging with an emphasis on guided tours and pre-planned social and cultural activities.
Escapism rather than adventure: Seniors don't travel so much for adventure's sake, but more so for escapism and relaxation, which is another key differentiator between them and millennials. They also tend to desire more creature comforts from their daily lives and are more inclined to incorporate the familiar elements of their non-traveling lives into their travel experiences.
Peace of mind: Whether you're talking about travel insurance, packaged bookings, or other plan-ahead activities, seniors want peace of mind when they travel. They want personalized, one-on-one interactions with the facilitators of their travels and are less interested in the quick, instant gratification culture often associated with younger travelers.
Millennials

Much has been made about how millennials have changed the travel industry via their use of technology - smart phones, mobile devices, social media platforms, and creating a virtual, communal experience online. And while this is certainly true, millennial travelers have altered the way travel companies function in a myriad of ways that have very little to do with 24/7 connectivity.
Immersive travel: When traveling, millennials seeks immersive cultural experiences that offer windows into a place and its specific culture. No pre-packaged tours or excursions for this generation - instead, millennials desire a cultural authenticity that can only be attained from peering into the quirks and eccentricities of the destinations they visit.
Business and pleasure: Unlike seniors, millennials often combine business and leisure travel, melding the two together in one single instance commonly referred to as bleisure. Because millennials often have less disposable income, roughly 62 percent of millennial travelers in 2015 reported they extended business trips by a day or two into more leisure-based travel.
Value: As we just mentioned, millennials aren't exactly flush with cash - student loans and other expenses can severely hamper their ability to take extended vacations. Last-minute deals and bookings, discount offers, and other value-driven propositions are at the heart of this generation's ability to be an active players in today's tourism industry.
Experiences: Millennials are less concerned with the traditional sand-and-sun travel destinations the generations before them so enjoyed. Instead, millennials are looking for unique cultural experiences that cannot be replicated on a mass scale. This means travel companies need to be focussed on offering dynamic travel options millennials can seize at a moment's notice that provide once-in-a-lifetime, individualized experiences.
Verdict?

At the beginning of this article, I referenced the long game versus the short game in terms of appealing to senior and millennial travelers. What does the mean?

As you can see, seniors are the long-game: they have money to spend on travel, are inclined to spend it, and require more attentive interactions with travel companies. They're less interested in hopping from one locale to the other and more apt to settle in for long spans in one destination. These characteristics mean travel companies must take an expanded, more holistic view when attracting senior travelers, providing pre-planned bookings with an emphasis on personal interaction and care with those in the airline, lodging, dining, and tourism aspects of the travel experience. Travel companies must operate on a more lean, streamlined system of booking software and solutions in order to provide a more robust level of customer service and attention to give seniors the peace of mind they so desire.

On the other hand, millennials, which are the short game, require less attention and upfront nurturing in favor of providing budget-friendly, unique experiences. Travel companies have to worry less about packaging destinations and more about the flexibility and agility to offer these travelers value-driven destinations that can be booked quickly and conveniently, offering a large degree of flexibility and visibility into how they spend their money.

Deciding whether to play the long-game or the short-game depends largely on the digital and software-based infrastructure a travel company has at its disposal, as well as its supply and demand planning capabilities. Whatever the choice, it's clear both of these market shares have an important foothold in today's travel industry, and travel companies need to be hyper-aware of who they're targeting, how, and why.

Explore why and how are the millenials different and find out ways to turn them into customers, by inspiring them!