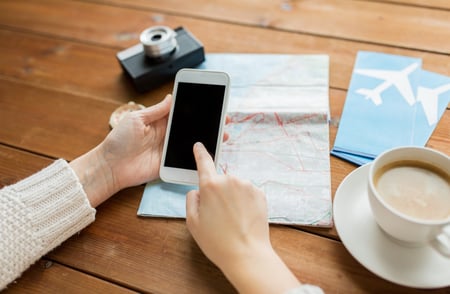 We've discussed in a great deal before on this blog the rise and importance of the millennial traveler in terms of reshaping how the travel industry at-large appeals to and interacts with a younger generation of traveler - and how that younger generation engages with travel primarily through digital media, mobile technology, and the internet. But these discussion have usually been somewhat broad in nature and have not examined the concept of the millennial traveler through any specific cultural lens. That is until now, because recent travel industry reports and surveys have pinpointed a certain millennial traveler whose impact could mean seismic shifts in the tourism industry landscape.
We're talking about the Chinese millennial traveler, particularly those on the higher-end of the socioeconomic spectrum, who are poised to become one of the most sought-after market segments of the near future.
A number of studies have recently shown that Chinese millennials represent about 22 percent of their country's entire population. Because they've come of age in an era when China has been on the rise both in economics and overall world status, Chinese millennials are, perhaps more than any other group, more reliant and savvy when it comes to digital technology, social media, and other new media forms of communication and information.
This means, given the shifts in the travel industry when it comes to these technology platforms, Chinese millennials could prove to be both the biggest challenge and opportunity for travel companies in terms customer relations and engagement. Why, you ask? What about the nature or makeup of Chinese millennials makes them such an enticing, emerging share of today's overall traveler pool?
Here are 5 statistics that help explain and illuminate the rise of the Chinese millennial traveler.
700 billion: Various reports indicate that by the year 2030 Chinese travelers in general will spend more than $700 billion annually on outbound travel and tourism, both for business and leisure purposes. Of this $700, a good percentage is expected to stem from some 300 million millennial travelers projected to be a part of the overall customer pool. In addition, while concrete figures are not known at this time, analysts believe high levels of disposable income, reduced travel costs, and loosening of travel restrictions to certain regions across the globe may further spur Chinese millennials to spend more time, money, and resources on travel than other segments of the population.
3.3: According to a recent survey conducted by Marriott International and the Hurun Research Institute, the average Chinese millennial has traveled abroad for leisure about 3.3 times in the past year alone. These trips lasted on average for about 25 days at a time and spanned about 13 countries ranging from the United States to Europe and all points in between. The report also indicated many of the millennials are classified as luxury travelers who sought high-end accommodations and a mix of unique, personalized travel experiences and packaged tours and itineraries.
$50,000: As we've already established, a majority of Chinese millennial travelers are classified as luxury travelers, a designation that is only primed for growth and expansion in the coming decade. Last year alone, according to Forbes, Chinese millennials spent more than $50,000 per household annually on travel and tourism products and services. This number is expected to increase in the long-term, but also in the short-term as respondents indicated they expected to make 3 to 5 large-scale leisure bookings in 2016 and 2017.
70 percent: Despite being on the cutting-edge of technological connectivity via smartphones, mobile apps, and other web or cloud-based devices, more than 70 percent of Chinese millennial travelers placed a high value on working with a travel agency when researching and completing travel arrangements, according to a report issues by Skift. While these same respondents indicated the desire for personalized travel products and services, they also reported that destination research, itinerary planning, tour or excursion packaging, and overall accommodation bookings can and should have a personal element, and that travel agencies are well-equipped to provide such a personal touch.
50 percent: It's important to remember that where travelers say they want to visit and where they actually visit are not one in the same - a number of external factors can influence where travelers want to go, how they spend their money once they arrive, and whether they'll return. But even so, roughly 50 percent of Chinese millennials travelers say they plan on visiting the United States as part of their outbound, leisure travel plans in the next three years. About 65 percent of Chinese millennials indicate they'll visit Europe during that same span, and both figures represent about a 15 percent increase in both locations from 2015.
With these statistics in plain view, it's easy to see why Chinese millennial travelers have the potential to shape and inform the future of the travel industry. A high degree of disposable income, a penchant for adventure and new experiences, a booming population segment, and proficiency with today's latest technology make Chinese millennials a must for travel agencies and companies to remain competitive in the next few years.