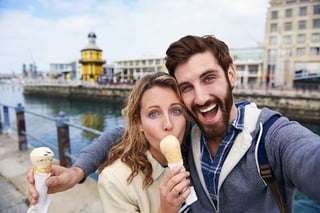 It may seem counterintuitive that the most connected, digitally tuned-in generation in history is helping to reverse the trend in recent years away from travel agencies, but a series of reports and surveys in recent years indicate that's exactly what's happening. Millennials, one of the most sought-after market shares in today's travel industry, are leading the charge in utilizing travel agents and online travel agencies to help curate their travel experiences, which is proving to be a boon for travel companies as they seek to leverage new competitive advantages for relevancy in today's fast-paced travel landscape.
According to a new report by the American Society of Travel Agents (ASTA), about 30 percent of millennials reported using a travel agency in the last 12 months - in addition, more than 45 percent indicated they would recommend using a travel agent to friends or family.
But this data doesn't just exist in a vacuum. A similar report published in 2014 by MMGY Global found 28 percent of millennials sought guidance from travel agents from 2013 to 2014, with more than 40 percent indicating they intended to use a travel agency within the next two years.
The travel industry has been a buzz in the last 12 to 18 months about how millennials are changing the travel industry by cutting ties with traditional modes of travel - from research to bookings and everything in between. Millennials are more independent, more savvy, and more dialed-in, and they seek unique travel experiences far afield from those of their parent's generation - no beach vacations or cruise packages for the millennial generation.
So why are millennials turning to travel agents in 2016 and beyond? Here are 3 reasons - the 3 E's - as to why millennials are increasingly seeking help from travel agents to research and book their vacations and trips.
Expertise
MMGY Global's survey found 8 out of 10 millennial respondents used travel agencies for their expertise about desired locations and the activities and excursions best suited for the traveler's wishlist. While millennials are perhaps the most web-savvy and research-oriented market segment of the travel industry - some surveys have found millennials will spend months researching a destination prior to actually booking it - they also have found travel agents to be another 'feet on the ground' resource when it comes to curating a unique, eclectic travel experience.
While the research millennials conduct on their certainly inform their decision-making about a destination or place to visit, a travel agency with an intimate knowledge of a certain destination and its culture, traditions, and history is a value-added proposition for millennials travelers who want once in a lifetime travel experiences coupled with a person-to-person interaction in curating their travels. For example, a travel agent with an extensive knowledge-base about foodie culture and the gastro-tourism market in Hong Kong will be well-equipped to position the city as a unique destination to a millennial traveler interested in local food customs who has spent weeks reading travel review websites and social media posts - travel agents can help make conceptual destinations more real for millennials who can mire themselves in research.
Exotic Destinations
As we've discussed in previous entries, the rise of the experimental and adventure traveler in recent years has forged new pathways for exotic destinations once rarely visited or positioned within the travel industry as viable vacation or tourism spots. Whether millennials are interested in backpacking through the mountains, swimming with sharks, or traversing the Amazonian jungle, exotic destinations and the logistical hurdles they present has driven millennials back to travel agents as gatekeepers of knowledge for these exotic locales. With new and emerging markets finding their way to popularity - particularly with the recent opening of tourist access to Cuba- travel agents, especially those with extensive knowledge-bases about a specific destination, will actually be better equipped than travel review websites or other online resources to provide travelers with insight and information.
Economics
The ASTA report surveyed millennials with annual household incomes of $50,000 or more. While the definition middle class in modern America - and even globally - is shifting and realigning, a majority of today's millennials earn a comfortable living, but that often comes with a cost: less time off from work to enjoy that living. As a result, millennials want the greatest value possible with the precious time they do have away from the office. Getting the best bang for their buck is often cited in travel industry reports and surveys as a top priority for millennials, and travel agents, even in today's tourism industry, are still well positioned to offer dynamic travel packages, tours, and other excursions unique to each traveler on an economical scale.
In addition, because millennials are often strapped for free time, the bulk of their travel research often centers on the destination itself and not the best, most affordable ways to experience the place they visit. As a demographic more concerned with experiences than products, travel agents, with their knowledge of destinations and access to tours and activities, provide advantages for millennials in helping curate experience-based vacations with the greatest value in terms of dollars and cents, but also for the moments and memories millennials make during their trip.
Even in this internet age, with so much of youth culture seemingly dependent on smartphones, tablets, social media, and other modes of online interaction, millennials have essentially rediscovered travel agents as resources for 'on the ground' knowledge of unique travel destinations while at the same time providing an element of human connection to the task of researching and booking travel. This two-pronged approach to reaching millennials is something more and more travel agents should - and likely will - embrace going forward to remain relevant and viable in the 21st Century travel landscape.
Who are the millennials and why are they important to your travel business?