It's no secret mobile bookings are a major force in today's travel industry. Travelers - particularly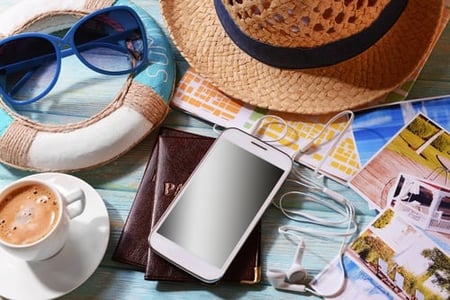 millennials and digital natives - are more tech savvy and connected than ever before, and they're using mobile capabilities to research, book, and review travel experiences at unprecedented levels.
According to the travel industry research group Phocuswright, the online travel market in the United States has seen revenues surge to more than $166 billion since 2012 - in addition, roughly 45 percent of domestic travel spending will come from online travel commerce. Both of these staggering statistics are in large part driven by mobile capabilities and how travel companies leverage their mobile platforms to reach customers and engage with travelers.
In fact, these statistics are just two of many that support the mobile narrative unfolding across the travel and tourism industry. The figures behind the rise of mobile booking technology and the impact this development has and will continue to have on how travel companies and customers interact is one of the more interesting and revealing aspects in today's travel landscape.
To showcase just how influential mobile bookings are for both travel companies and customers, here are 4 statistics about the popularity of mobile travel bookings and the implications of these numbers for travel companies and travelers.
83. In a recent survey conducted by Phocuswright, roughly 83 percent of travel companies and tour operators admitted to conducting a majority of their booking operations outside of the mobile and online sphere. This means a large portion of the travel industry is unable to engage today's travelers where they spend a majority of their time: online. The inability to connect with travelers via the internet and mobile platforms significantly decreases a travel company's capacity to position products and services in a way where travelers will find them, thus making it difficult for these companies to grow and compete in a crowded industry.

85. That's the percentage of travelers who carry a mobile device with them when they travel. And these travelers are not merely using their mobile devices to share pictures of their experiences or chat with friends about the destination they're visiting. Instead, travelers are using their mobile devices to research tours and activities, alter or modify bookings, and review travel experiences all in real-time - essentially while they're 'on the ground' in their hotel or during an activity. Travel companies and tour operators who leverage mobile booking platforms have a better chance of engaging with travelers as they experience their destination and providing increased levels of customer services should cancellations or disruptions occur.
1700. Between 2011 and 2015, mobile bookings grew about 1700 percent, surging from just 1 percent of the travel market to a little more than 18 percent of all online revenues. Driven by the use of mobile apps, responsive websites, and even the rise of social media platforms like Twitter and Instagram, today's traveler is just as dependent on their smartphone or tablet as they are on their laptop or desktop when it comes to researching and completing travel bookings. As such, many industry experts believe the explosive growth in mobile bookings will continue in the short and mid-term future as devices become more user-friendly and more emerging markets begin using this technology.
69.4. Emerging markets are set to play a big role in the continued rise of mobile travel bookings as more and more countries gain access to mobile technology and the ability to travel and experience the world. In fact, according to a 2015 study, mobile penetration is expected to rise from 61 percent of the global population to just shy of 70 percent by the end of 2017. This means more and more travelers will have the ability and desire to complete bookings online and via mobile applications, further expanding the potential customer pool for travel companies who leverage mobile technology as part of their customer engagement strategy.
Numbers don't lie and the figures behind the rise of mobile bookings paints a revealing story about where the travel industry is headed in the coming years when it comes to mobile technology. Travel companies and tour operators who embrace this technology will be well positioned to grow and expand their reach as more and more travelers realize the value proposition of mobile bookings.