The word 'delight' may not be the first thing that comes to mind when you think of boarding passes,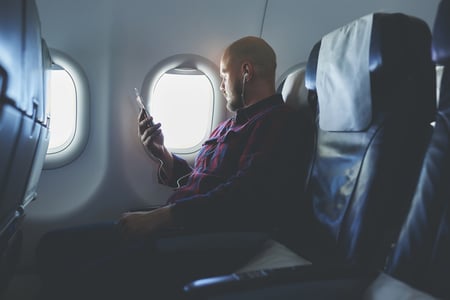 rental car vouchers, or confirmation e-mails - each of which are are elements of modern travel with its ever-increasing complexity. Replacing that complexity with simplicity, however, is a delightful proposition indeed, to say nothing of a major value proposition. And one of the best ways of cutting through this complexity can take the form of the right mobile travel app.
Increasingly, modern travelers rely on their mobile devices for managing their travel, from bookings and scheduling to managing documents like boarding passes and rental car reservations.
But just because these tasks happen on a smartphone doesn't mean they're truly convenient. Users can often be saddled with technical headaches and clunky interfaces that prevent them being at ease while they travel. In today's global travel sphere, smartphones essentially act as travel assistants, but as assistants they tend to be disorganized and less than competent. This can be a significant pain point for customers as they research, book, and share information about their travel experience with family and friends.
Features of the right mobile travel app
With the right travel mobile application, a traveler's mobile device can be transformed from a poor travel assistant into an excellent one. Customers have the ability to communicate with travel companies in a familiar, highly-trafficked space: online.
But what is the right mobile travel app? What features are key for travel companies to deploy to provide customers with greater satisfaction? Some of these key features include:
The capacity to manage itineraries through a streamlined, easy-to-use user interface.

The ability to access travel information, as well as information about their destinations and/or trips such as check-in/check-out times for hotels and boarding times for flights.

Integrated functions such as valuable widgets, including maps, weather information, and currency converters.

A communication or messaging platform to receive critical travel notifications, such as departure and arrival notifications, gate changes, and cancellations.
By deploying these features in a mobile travel app, travel companies would eliminate a number of outdated, manual, and time-consuming processes, such as individual and separate e-mails confirming trips and bookings; paper boarding passes and vouchers; and other forms of physical documentation. Because mobile travel apps allow for direct communication between travel companies and customers, customers would remain in close contact with their travel agents or tour operators, in order to receive travel alerts and updates as well new promotional offers and marketing material.
Benefits of mobile apps for travel companies
But what about the value of a mobile travel app for the travel company? It's important to remember leveraging mobile tech is not simply about the customer. A mobile travel app that truly enhances the convenience and flexibility of travel processes, all while integrating a set of disparate tasks into a streamlined whole, stands to help travel companies attract new customers whose inclinations are to use their smartphones for travel booking - and we know from previous posts more and more of today's travelers use their smartphones or tablets to curate their entire travel experience.
Once these new customers have been attracted, a mobile application can provide companies with a direct line of communication—opening up new opportunities for a host of purposes, including:
Marketing

Cross-selling and upselling

Direct customer communication
In addition, a travel app's ability to function as a sort of travel assistant essentially automates many of the processes that come after a booking is made. Confirmation e-mails no longer need to be sent out manually, just as booking information no longer needs to be entered into an agency's system by hand. At the same time, if a user should require direct communication with a travel agent (or vice versa), a well-equipped application will be able to facilitate quick and easy communication by both providing important web addresses and phone numbers in easy-to-find locations and by dialing agencies and hotels directly. The result is the potential streamlining of both back- and front-office processes.
But even more than that, the right mobile application presents the possibility of new paradigm in travel, one defined by increased connectivity and more artfully integrated processes across each touch point of a travel company's value chain.