Some travel trends are difficult to discern; millennial behavior, for example. What is that generation really thinking? We know what they reveal in surveys, but the information can be contradictory or speculative and getting hard data on behaviors can be challenging.
Not so with mobile bookings in the travel industry. Surveys are clea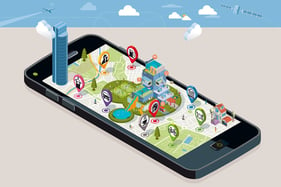 r in their data – online commerce has been growing by double digits and travel is in the top three commerce categories. Criteo projects in Q1 2016 mobile purchases will jump to 33% in the U.S. and 40% globally and that mobile technology will account for about 27 percent of all digital travel transactions.
Frankly, people in the travel industry don't need to plow through data, surveys, reports and articles to realize mobile commerce is growing by leaps and bounds – they can see it with their own eyes. Every day more friends and family learn the convenience of immediately using mobile devices for purchases rather than waiting to be at their desktops or opening up a laptop. Who could be surprised that travelers, among the most sophisticated consumers in the world, are in the forefront of this travel technology transformation?
What does "Ready" mean?
With this convergence of travelers shifting purchases to mobile devices, perhaps the question to ask isn't if your travel business is ready for mobile but if your idea of "ready" is competitive. Two years ago, if a travel agency or tour operator was asked if they had a responsive website, a surprising number might not have been able to answer the question. Now only a minority would fit that profile. However, many more may not appreciate the extent to which "ready" is well past the basic criteria of responsiveness.
Today's traveler doesn't simply expect to avoid the surprise of a website not displaying properly on a phone or tablet. When it comes to website technologies, they have, in a sense, they've moved beyond expectations to assumptions. Now travelers assume there will be no difference whether they visit, communicate or purchase from your travel website on a laptop, phone or tablet. Accordingly, "ready" means no difference – beyond screen sizes – in website appearance, functionality or experience.
There's two ways for travel companies to approach this new meaning of "ready". One way leads to a reasonably competitive circumstance, in which mobile capabilities provide your staff with the tools to have a decent chance to win new customers. A second approach results in a more commanding position that provides your staff with capabilities to consistently outperform competitors.
Obviously, no one would consciously choose the first approach; but, in fact, that's where most companies wind up – primarily because the second approach doesn't occur to them.
The first approach is one where travel companies spend significant time and money to make sure customers enjoy a seamless site experience across computers and devices. However, in the second approach, the travel agency or business takes two steps rather than just one. In the first step they carefully evaluate their travel website to make certain it delivers compelling functionality. Only when the website is compelling does the second step take place – making it seamless across technologies.
How to get "Ready"
If the first – and most important – step toward highly successful mobile commerce is evaluating your travel website, what's the best way to get started?
The evaluation should focus on essential qualities: 1) the website must be an innovative platform that creates a personalized and compelling buying experience; 2) it must deliver a software solution for effectively selling travel products and services directly to your customers. Since these qualities cover a lot of ground, here is some high level guidance and examples.
Innovative Platform: here are some important qualities to look for when determining if your travel website really provides a personalized and compelling buying experience.
Bookable Content

: does the website allow you to go beyond basic online booking and automatically create dynamic travel packages with flights and hotels – triggered by live searches in your supplier's databases?

Descriptive Content

: is the website able to observe customer behavior and engage them by responding with a wide variety of personalized, descriptive content from integrated online databases (or your own repository of photos, descriptions, points of interest, etc.)?

Social Media

: does the website support social media integration, such as: a social media login feature for user accounts; prompted Facebook likes; social media bookmarking and personalized Tripadvisor reviews?

Advanced Capabilities

: is the website able to create personalized online landing pages to welcome back returning users; embed SEO tools to maximize search engine results and drive site traffic; leverage specific programming techniques for highly effective and seamless device compatibility; enable online chat to build the customer relationship; easy reservation detail retrieval using just an email address and reservation number?
Effective Selling Solution: here are important marketing, search, booking and payment qualities to look for when judging if your website actually does a good job of turning visitors into customers.
Smart Search

– does the website offer "smart search" features designed to conveniently enable site visitors to: search hotels by city, address or Google points of interest (POI); search flights by city to city, airport to airport, airport to city/city to airport – or round trip/one way flights; search packages by city to city option, airport to airport; or airport to city/city to airport.

Multiple Sales/Booking Channels

: do consumers enjoy a full range of sales/booking channels, such as: flights; hotels; activities; dynamic packages and holidays?

Personalized Marketing Offers & Deals

: can the website be easily personalized (leveraging cached user information) with pre-built marketing widgets for: special travel "deals" on landing pages; pages with carousels or sliders displaying "limited" offers and "upsell" opportunities for specific hotel/flight destinations (based on cached user choices).

Multiple Integrated Payment Gateways

: does the site handle multiple currencies and a wide variety of credit card options via a high performance, encrypted gateway?
Depending upon the experience, budget and technical resources of your travel business, these capabilities may appear somewhat intimidating. If your company – like many – is challenged by budgets and technical capabilities, keep in mind one very important consideration: visitors to your website never take those limitations into account. They simply expect an excellent experience from every company who wants their business.
Given that key reality – and challenge – a great number of travel companies find the most practical option is to purchase a customizable online travel platform such as TRIP from dcs plus. Even when budgets aren't a limiting factor, the wisest move in today's competitive travel industry is for every company to stay focused on only what it does best.