Take a moment and look at your smartphone. With just a few taps on the screen, you can in mere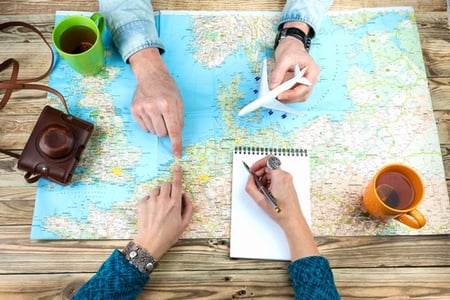 minutes perform all the functions of a traditional travel agency on your own time according to your own personal wishes and desires. You can search available bookings, researching destinations, comparison shop suppliers, and even interact with others on social media and read reviews of specific destinations, activities, airlines, and hotels.
Yet even with this advancement in mobile travel technology, more and more travelers are returning to traditional agencies to help curate their travel experiences - in fact, several recent surveys indicate travel agencies are poised to experience some of their robust growth in recent memory, despite the popularity of websites like Expedia and Travelocity, not to mention the rise of sharing sites like Airbnb. This recent trend begs the question: Why do travel agents still matter? What value do they offer customers in 2017? Is the resurgence of the travel agent more of step backward rather than step forward?
The reasons for a return to travel agencies are numerous and largely center on the notion of connection and personalization in digitally-driven world. But in order to understand this emerging trend, here are 5 reasons why travel agents still matter and why today's modern traveler is relying more on a traditional agent than in years past.
Cutting the complexity
Yes, today's traveler has more options available than ever before to research and source products and services, complete bookings, and review hotels, airlines, and activities. Yet all this variety and availability can actually be a hinderance to the buying process as travelers can feel overwhelmed by the sheer volume of travel providers, products, and services. Travel agents not only have in-depth knowledge and working relationships with a number of suppliers, but they can also help travelers wade through the seemingly endless number of travel options to find the right destination at the right time at the right price. Cutting through the complexity of today's travel market is perhaps the top value proposition travel agents can offer customers in an industry teeming with major players.
Customization
Via mobile travel apps, travel review websites, and online booking sites, today's traveler has more power than ever before to create an entirely unique travel experience on their own. However, this process can be time-consuming and quite complicated, especially when working disparate provides or sources to create one travel package. This is where travel agents can offer customers real value in customizing their travel plans and bookings. Because agents have the tools and capability to work with a number of providers at any given moment, agents can provide travelers with unique, personalized travel packages with little lead time or expense.
Personal connection
Today's digital landscape has its advantages: Enhanced visibility and transparency of travel companies and suppliers; increased speed and flexibility of products and services; and a robust customer-facing model where travelers can communicate with travel companies on a near 24/7 basis. However, recent surveys of millennials indicate one of the primary reasons travelers are returning to travel agencies is for the one-on-one experience of working with an actual person to coordinate their travel plans. This sense of connection is a core driver for so many of today's travelers in an era when so much commerce takes places on laptops and mobile devices.
Expertise
Because of the sheer number of travel websites, review sites, mobile apps, and other online platforms, it's easier than ever before for individuals to come across as experts in certain segments of the travel industry even though many are simply average travelers. This can results in much misinformation for today's traveler when it comes to researching and selecting bookings or destinations. Travel agents not only often operate in the destinations in which they represent, they also work with tour operators and suppliers who live and work in those destinations, which provides customers with an expert-level of knowledge about the nuances and complexities of any given location.
Start to finish service
As we briefly discussed a moment ago, so much of today's travel industry relies on interactions with mobile or online platforms often devoid of personal interaction. This means travelers can find themselves feeling isolated when a flight is delayed or a certain product or service needs rebooking. While many travel companies offer ways of communicating with a customer service representative to address delays or cancellations, travel agents often travelers personalized customer service from start to finish, from the first meeting to the final booking. This also means customers have a dedicated touch point when delays or cancellations occur to address rebookings or alterations in travel plans.
While the travel industry may be reliant on the latest technology to enhance the quality and accuracy of products, services, bookings, and customer service, traditional travel agents still have an important place in the global travel landscape. As more and more of today's travelers seek connection, customization, and personalization in curating their travel plans, it's clear travel agents can play a critical role in helping travelers discover where they want to go and how to get there.