With more advancements in mobile technology and the ease at which people can communicate, the line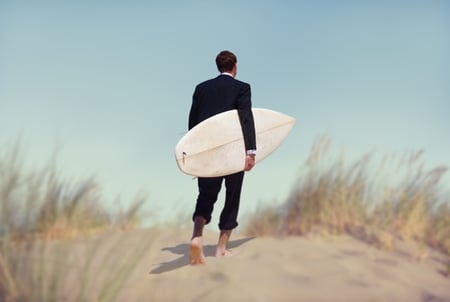 between work and play becomes more and more blurry. In today's world, it's not uncommon for people to respond to work emails on their smartphones or tablets while on holiday, nor is it uncommon for travelers to add small vacations onto their business or corporate travel bookings.
This merging of business and leisure travel, also known as bleisure travel, is a somewhat recent development in the market share of today's travel industry customer, though it's a segment that's growing exceptionally fast with great potential impact on how travel companies position products and services. According to a recent study by BridgeStreet Global Hospitality, more than 60 percent of travelers reported merging business and leisure travel in the last year, with 30 percent of respondents adding at least two additional days to their trip.
However, before we can say for certain whether these statistics are disruptive or if this new breed of travelers will have a lasting impact on the global travel landscape, we first must understand just who today's bleisure traveler is, what they want, and what they expect from working with travel companies, both online and in the physical world.
Who Are Bleisure Travelers?
According to a recent report on bleisure travel published by CWT Solutions Group, a majority of today's bleisure travelers are millennials between the ages of 20 and 25. The report also suggested these travelers are more likely to tack on additional days of leisure travel bookings when their business trips spill over into the weekends, primarily on Saturdays with Sundays as the most common departure day. However, several respondents also indicated they also take personal or vacation days while on business trips to extend their travels into the leisure sphere.
Report also suggests women are more likely bleisure travelers than men regardless of how much they travel, whereas men opt for a bleisure travel experience based on the frequency of their business or corporate travel. This means travel companies and tour operators may have an easier pathway in appealing to female bleisure travelers rather than male bleisure travelers who might be more skeptical of blending business and leisure bookings.
Because a majority of bleisure travelers are millennials, connectivity, control over their travel experiences, and personally curated activities are top priorities when extending business travel into leisure time. Specific, unique, or individualized cultural experiences are a big draw for this demographic who places high value on experiences rather than things. Authenticity is also a key driver in identifying the average bleisure traveler, and travel companies and tour operators should place great importance on offering authentic, region-specific experience - a tour of a rustic, historic vineyard versus a large production winery.
What Do Bleisure Travelers Want?
Because bleisure travelers are predominantly millennials who place great value on the notion of 24/7 connectivity, bleisure travelers don't mind blurring the line between work and play within their travels. Today's young generation is often on a tight budget with significant time constraints - luxurious vacations or holidays are not easily attainable - so a night out on the town or a party often turns into a networking opportunity to meet and socialize with other professionals in their field. This should be a value proposition for hotels in particular who could entice bleisure travelers to attend a cocktail mixer or banquet-style dinner with both an emphasis on relaxation and fun but with a networking component for those within a certain industry or business sector.
In addition, bleisure travelers - as with millennials in general - want to feel in control over their travel bookings and accommodations. Given their access and knowledge of the internet, social media, and mobile platforms, bleisure travelers are knowledgeable about their destination and want to work with travel companies they feel are equally as knowledgeable and invested in the destination. Bleisure travelers also desire one-on-one connections with hotels, travel agencies, and tour operators, even if those connections come in the form of mobile chats or social media posts.
What Do Bleisure Travelers Expect?
Simply put, bleisure travelers expect travel agencies, tour operators, and travel companies to understand what they're about and why they matter as a growing segment of the travel marketplace. Even though they exist in something of a middle ground, bleisure travelers expect travel companies to position products and services that can be easily incorporated into their itineraries - for example, a day-long trip and tour of a certain region is not viable, however, a two-hour tour of a landmark or location of great importance to that region's culture provides much greater value.
As with millennial travelers in general, bleisure travelers expect travel companies to deploy mobile research, booking, and communication apps so customers can be in constant communication with these companies to help troubleshoot alterations or disruptions to bookings. In addition, bleisure travelers expect travel companies to 'find' them in the environment where they spend a majority of their time: the internet. This means travel companies must leverage social media and digital strategies capable of reaching bleisure travelers 24/7 and engaging in direct dialogues with them about products, services, and feedback.
While some industry analysts discount the impact bleisure travelers can have on the travel and tourism industry, many others believe this emerging market segment presents some interesting opportunities for travel companies as they work to develop lasting relationships with customers. Leveraging more leisurely activities inside a business travel booking opens up interesting pathways for travel companies to package professional, corporate activities with more casual, relaxed excursions. This also means travel companies will have to operate with more flexibility and transparency as they blend business and leisure bookings into a platform bleisure travelers find efficient and enjoyable.