---
dcs plus' smart app TravList is now available to download
TravList – the new smart travel assistant launched by dcs plus – is now available to download from Google Play and AppStore. From now on, both you and your valued customers can enjoy the benefits provided by this easy-to-use mobile trip companion.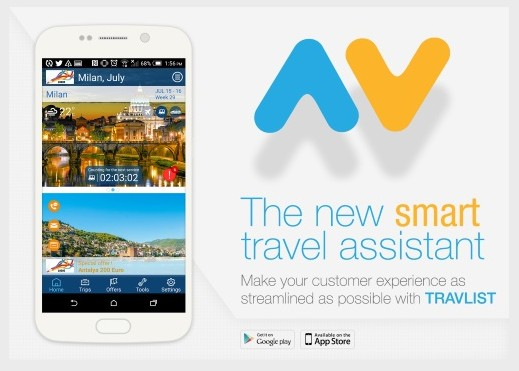 Your customers will enjoy a 'paper-less' and personalized travel experience while you'll get remarkable benefits brought to you by a great:
Mobile Marketing tool
Customer retention tool
Automated travel assistant
Cross selling and upselling tool
You know that today's travelers are mobile first, multi-screen and social media savvy. Understanding your customer's needs and then serving relevant, timely messages and useful information matters now more than ever. Everybody wants personalization, easy transactions and seamless interaction.
With TravList, you can deliver highly personalized messages and offers, tailored to each individual customer's preferences, behavior and needs. Your benefit have never been greater! You know how important is that your customers consider your marketing communication a value-added, differentiating service. Show them your respect for their time, priorities and wishes. They will love to receive tailored offers based on their travel habits and needs.
Let your customers be in control and eliminate the temptation to push 'unsubscribe' or 'do not solicit' buttons! Avoid serving them irrelevant or mistimed information – you risk to attract disengagement.
Create lasting relationships with them, by offering them exactly what they are looking for!