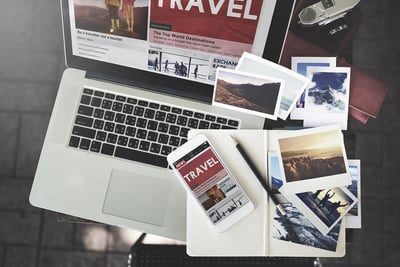 It's Tuesday night and you just discover you don't have enough milk to finish cooking the family dinner. You know you'll have to run out for a fresh quart, but as you scramble to find your car keys and a few dollars you have to decide where you're going to go. You have options: a big-box grocery retailer or a small, independent market. The big-box store may be fractionally less expensive and offer much in the way of convenience and choice, but the market is nearby, offers a more personal experience, and is more knowledgeable about the products on the shelves.
Which do you choose? Tuesday night dinner aside, a similar scenario plays out time and time again in the travel and tourism industry, particularly between OTAs - as well as tour operators and TMCs - and traditional travel agencies.

OTAs offer customers a wide array of products and services from a number of different suppliers. Travel options can easily be combined into dynamic packages and sold to consumers at discounted pricing or with special offers. On the other hand, travel agencies can offer customers more niche travel bookings and curate potentially more individualized travel experiences through getting to know their customers on a more intimate level.

Conventional thought on the state and fallout of the OTA boom is somewhat divided - some travel insiders believe the boom is behind us while others believe it's identity has simply morphed or evolved. Whatever the case, travel agencies have seen a resurgence in recent years after the travel industry labeled them a dying breed, and travelers are slowly returning to travel agencies to help plan and execute their travel plans.

With that in mind, here are 5 key drivers travel agents can leverage to ensure continued success in 2016 and beyond.

Embrace Transparency

Travel review websites, tourism blogs, social media platforms, and even OTAs themselves have helped make more information available to would-be travelers than ever before. With very little work, travelers can research and investigate everything from suppliers - hotels, airlines, rental cars, etc - to the actual destinations themselves. This results in a much more informed and knowledgeable traveler, which one could argue lends itself to the convenience, speed and, flexibility surrounding web-based bookings and packaging.

But travel agents should embrace the transparency these forms of technology have provided and use them as building blocks to create dialogues between themselves and customers. The preponderance of travel information and feedback, while at once leveling the playing field, can also be overwhelming for even the seasoned traveler, and travel agents who leverage this transparency as a way to help customers sort through the wealth of information will not only create relationships with customers, but will also build trust for future bookings.

Traveler Engagement
One of the core drivers OTAs and other big-box-like travel companies have at their disposal is the ability to engage with customers long after a booking is complete and the traveler's bags are unpacked. This capability to touch base allows travel companies to create and distribute targeted messaging based on a customer's profile and purchase history, but also allows for the mass dissemination of special offers, news, updates, and so on. Travel agencies must incorporate this strategy into their marketing and outreach efforts to continue that positive, intimate connection created when the customers initially made contact. Email marketing campaigns, social media posts, and blogs are relatively inexpensive ways to sustain communication with customers, engender loyalty, and increase your ROI without much capital investment.

Operational Efficiency

Let's face it: Delays and cancellations are simply part and parcel of doing business in the travel industry. Weather events, natural disasters, regional unrest, mechanical issues, and other disruptions can severely plague a traveler's experience and catch travel agencies off-guard when it comes to response. Travel agency's must employ advanced ERP and booking software and solutions to create E2E visibility and agility to successfully facilitate interactions between suppliers and customers. Imagine a flight from Cleveland to Cancun is delayed due to a snow storm in Ohio. The capacity to mediate communication and information between an airline and customer to complete a rebooking or alter hotel accommodations is a crucial driver in retaining that customer and establishing operational efficiency across all points of the value chain.

Too Few Players?

As we discussed earlier, some travel industry analysts believe the OTA boom has resulted in too few players in the market - the fallout has left the industry with just a handful of survivors who more or less corner the entire tourism market. Think websites like Expedia and others. However, others argue the OTA boom has merely shifted in it's composition to include slightly less traditional OTAs like AirBnB and its competitors. But too few players in the travel industry may not be a negative proposition for travel agencies who can use this perceived vacuum to differentiate themselves by creating a strong, unique brand or story. Travel agencies should view the current landscape as value-added when it comes to positioning themselves as a viable alternative to OTAs and other online booking portals who prioritize speed over care - who view a customer as a number, not an individual.

Target Millennials

We've heard the same story many times over: Millennials live online - they exist on social media and in an instant-gratification bubble, which can spell death for travel agencies and other traditional modes of tourism and destination booking. But it's also true milliennials crave unique, personalized travel experiences, and travel agencies are perhaps best positioned to offer this sought-after demographic what they desire. In fact, according to MMGY Global's 2015 Portrait of American Travelers, the number of millennial travelers who said using traditional travel agents to book vacations jumped from 9 percent in 2014 to 13 percent in 2015. This data clearly shows millennial travelers feel travel agencies are a value-added proposition in their destination planning, and travel agencies should seize this data as a way to leverage tailored marketing and messaging to further entice millennials to ditch their travel apps for a travel experience curated by an individual.

Download our free eBook and learn more about building your online brand!