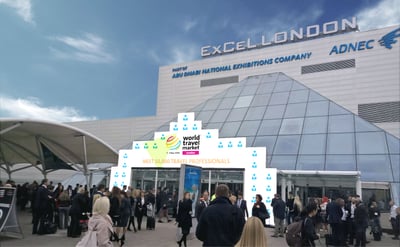 The 37th annual World Travel Market London is quickly approaching. The 2016 tradeshow is set for Nov. 7-9 at ExCel London and is primed to be one of the biggest conferences in the organization's history. Seminars, guest speakers, demonstrations, and meet-and-greets with travel industry professionals from across the globe are just a handful of the events attendees can look forward to, along with a wide variety of business networking and contract opportunities with travel professionals, government ministers, and the international travel press.
It's an exciting few days for the travel industry, but the sheer number of events, discussions, and exhibitors can be overwhelming for both first-time attendees and returners. It's easy for exhibitors, speakers, and attendees alike to over-schedule, under-schedule, and even miss out entirely on events and opportunities.
WTM only comes around once a year and as such it's important to take the necessary steps to make the conference as productive and successful as possible. With that in mind, here are 8 tips for first-time and returning attendees to get the most out of this year's WTM, both personally and professionally.
Check the WTM website prior to arriving. Attendees at this year's WTM will experience some significant changes from prior year's conferences, including a reduction to only three days of events - Nov. 7-9. In addition, attendees should note Nov. 7 is strictly by invite-only for all attendees. Those planning to attend the 2016 conference should also note the start and end times of this year's event - 10 am. To 7 p.m. for all three days of activities - as well as FAQs on registering, check-in, and general attendance policies.
Tell the world you've arrived. The 2016 WTM is set to attract roughly 50,000 attendees. With such a massive number of travel industry folks in one place, simply shouting across the convention center to say hello won't do. This is where social media sites like Facebook, Twitter, and Instagram not only let other attendees you're on the convention grounds, but it also lets other travel industry professionals not in attendance keep track of what you're doing. Attending a certain panel? Check in on Facebook. Have a successful meeting on the convention floor? Snap a photo and post it to Instagram. Use social media as a tool to document your experience.
Remember your business cards. 75 percent of all attendees to WTM have direct purchasing power or the authority to negotiate new contracts. In addition, more than 9,000 qualified WTM buyers will be roaming the convention floor at any given time. That's a lot of names and faces to remember and making sure you have plenty of business cards is crucial to making sure these meetings turn into lasting relationships. Keep your business cards in a convenient place - a jacket or briefcase pocket - and plan to bring more than you think you'll need.
Plan ahead, but don't plan too much. 80 sessions. 250 speakers. 12 international sectors. With only three days of activities, that's a lot to fit in. Using calendars on your smartphone or tablet is a great way to highlight and remember which events you want to attend, and creating an itinerary is a smart way to make sure you experience the most during WTM. But beware: planning to attend too many sessions can not only be overwhelming and fatiguing, but it can also leave little room for spontaneous meetings or networking opportunities. Plan light and allow a little room for the unexpected.
Wear comfortable shoes. While WTM guidelines specify business attire is required for entrance to all events, wearing comfortable shoes is a must, especially given the sheer size of this year's conference. ExCel London is located on more than 100 acres of land and will host hundreds of vendors and exhibitors from nearly 40 sectors of the international travel industry. This means attendees will be doing a lot of walking and standing during the three-day conference, and comfortable footwear will be essential in keeping pace.
Feeling tired? Stop by the WTM Wellness Lounge. Let's say even with comfortable shoes you're feeling a bit worn out by the day's activities. If that's the case, head over to the WTM Wellness Lounge where you can recharge and continue your networking opportunities at the same time. The lounge will offer entrants a number of spa activities and services while at the same promoting a quiet, peaceful area for professionals to meet and negotiate contracts or agreements. The lounge will also feature about 250 exhibitors.
Make the most of lunch. Each year, roughly $2.5 in new contracts are sealed during WTM. With so much potential, making the most of your downtime is critical and lunch is perhaps the most effective, low-key to keep the networking going outside the convention center. ExCel London is located near a number of dining options and scheduling meetings during lunch is not only a great way to get to know new clients and contacts, but it's also an opportunity to experience the surrounding area - the Royal Victoria Dock and nearby wharf are particular points of interest.
Remember to have fun. With so many travel industry professionals and events packed into one place, it can be easy to feel stressed out and overworked. Remember: working in such a vibrant industry is supposed to be fun. The WTM festivals from 5 to 7 p.m. each night are a great way to relieve stress, connect with other professionals in a more casual atmosphere, and interact with people outside of the business. If the travel industry is really about people, making time to enjoy other people's' company is key to a successful WTM.