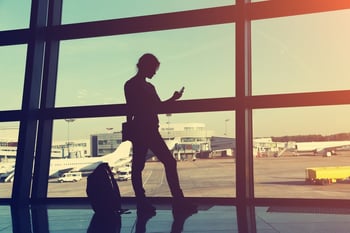 This article explores the most important facts and features that should be considered by the TMCs servicing small and medium enterprises, when looking for a corporate self-booking tool.
In this dynamic travel industry, business travel is only going to expand; thus, the travel management companies like yours should stay competitive and differentiate themselves by offering premium service to corporate clients and their travelers.
Why corporate self-booking tools are important?
Today it's all about value; now more than ever before. Everyone is constantly seeking value for money – and this doesn't necessarily mean buying the cheapest flight ticket or accommodation from an online travel website. Travelers are looking for much more than that – they are looking for convenience and delightful, tailored travel experience.
For Travel Management Companies, understanding the needs, expectations, and habits of their corporate customers is crucial to their future success. You, as a TMC should fully understand your clients' travel patterns and do your best to provide them solutions that will drive efficiency. One of the strongest allies in this struggle to stay competitive and differentiate by offering premium service to corporate customers is the technology.
A glimpse at business travel behavior shows why technology tools have become an important factor for travel managers. Studies reveal that today most business travelers (over 62%) book travel services by themselves.
In this context, it's hard for companies to make sure their travelers are booking in policy when they have no idea what they're doing, so online booking tools are essential. Here comes again the role of TMCs, that should help organizations gain control and visibility over their business travel spend.
Today, corporate self-booking tools have become a standard part of mature travel management programs. These are specifically designed to meet a corporation's needs around policy compliance, reporting and preferred vendor usage. These tools also offer more autonomy and simplicity to business travelers while making their travel arrangements from the convenience of their computers, while staying compliant with the travel policies in place in their company. Ultimately, corporate self-booking tools are supposed to bring:
Lower TMCs transaction costs – because online bookings made through such platforms do not require travel agent assistance or support
Lower travel costs – more options displayed: a CSBT has the ability to display more options than an agent can describe in the same amount of time.
What you should be looking for?
Understanding the features of online corporate booking tools can help you choose the right tool for your corporate customers. First, keep in mind that that travelers are more likely to use a simple and empowering booking tool than a complicated or limiting option. While this might sound obvious, with so many CSBTs available today, TMCs might forget this 'rule' and get lost searching for the right fit. This can result in choosing some complex solutions which eventually will prove to be pointless for most of their customers.
So, look for simplicity – business travelers are very busy people anyway, so no one wants to complicate things. Simplicity will increase adoption.
Look for content freedom. Many solutions on the market come with predefined content. You're the one who knows what works best for your corporate customers, so why would you constrain them to book content from a single supplier? You should be able to offer them flight content from your own GDS contracts and from low cost carriers and accommodation from both travel wholesalers and your own contracted hotels. Of course, driving up volumes from your suppliers will translate into increased negotiation leverage – you can get lower fares based on the increased number of transactions.
Look for the possibility to allow advanced travel policy configuration. Without the right policy in place, companies are likely to expose themselves to substantial unnecessary costs in their travel activities. With in-depth configuration of travel policies and consistency across the entire travel activity within the corporation, maximum savings can be achieved. A good CSBT permits policies definitions per various criteria, such as, for example: type of service, total value of the transaction, departure or destination cities, airlines, flight classes, flight duration, hotel categories, regions accepted for accommodation and the list can continue. Just think about how often it might happen for a travel manager to have to define a policy in which, for a certain destination the traveler is restricted to use economy class, while for one that implies a long haul he can choose business class, up to a certain amount.
Convenience for everyone involved in the process – from travelers to travel managers. An automated travel policy validation and multiple workflows that can be set up for the approval will translate into an optimized and hassle-free process, fort both travelers and approvers. If compliant with the travel policies the booking is permitted, if not it, the request will pass through an approval chain. Convenience can be also reflected by a user-friendly interface

. A pleasant interface, intuitive and that provides a good user experience will drive adoption, so you shouldn't neglect this aspect when it comes to comparing possible options.