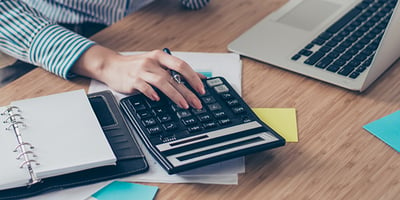 Get your financials right! You know very well the range of commercial agreements that you have with your corporate customers and how complex they can become. Also, a smart and accurate set up and management of service fees, commissions and discounts will have an impact on your business long-term profitability. Most likely, you have a diversity of service fee models – whether in terms of the amounts charged, type of service for which you are charging, type of operation performed (for ex. in case of air tickets – issue, change, refund etc.). As these service fees are a valuable source of revenue, you as a TMC, should be strict when applying fees, discounts and commissions.
The CRM module of TINA travel ERP allows a micro-granular storage when it comes to differentiated fees. Either if we talk about variations according to the type of product, destination, price, distance, flight class or operation performed per service in case of air ticket etc., TINA covers them all.
Service fee calculations can vary according to the service type and different other criteria that should be considered and matched, according to the contracts with the customers. There are so many possibilities and lots of details that can be taken into consideration – which we discovered in time, by working with global customers, in over 50 markets. In order to fit their needs and help them grow, we worked towards covering all the possible scenarios that may occur, by adding all sorts of criteria to match their businesses' specifics. You will be astonished by the possibilities that exist in TINA – either if you use the existing list of criteria or choose to combine the existing ones, for sure you'll be able to cover whatever your contract specifies.
For example, when it comes to ticketing services, the most relevant ones are referring to operation type (issues/reissue or refund), form of payment, service class code/name, or even the service remarks.
For the non-ticketing services – rules per form of payment, service offer category (such as, for example the number of stars, for hotels), offer product type (e.g. meal plan, for hotels), offer multiplier ( such as room type), location, destination or service remarks can be applied.
With the possibility of comprehensive set up and management of rules for services fees and discounts application directly in TINA, your travel agents will get rid of a terrible hassle of keeping in mind all sorts of complicated agreements. Moreover, there will be no more waste of time with checking contracts and the errors of manually calculating fees will be mitigated.
Once the service fee models are well defined and structured, the execution of rules that trigger their application will proceed in a quick, efficient and flawless process. TINA will apply the rules each time the defined criteria are matched, automatically inserting them into the service offer on top of the supplier price and taxes.
With the in-depth control provided by the fees management module in TINA you will also gain negotiation leverage. Why? Because all those fees that you set up are tailored to suit individual customers. You can service your customers with tailored services based on the previous purchases, volumes, frequency and easily identify where there is a greater willingness to pay for certain types of services.
For sustaining a long-term relationship with your customers and keep an increased level of satisfaction, you should find ways to provide them value-added services. The technologies that will back you up have a critical role – make sure you identify the right ones that will help you to stay ahead of your competitors.
Check our video below to see how easy it is to define a fees management rule in TINA Travel ERP!