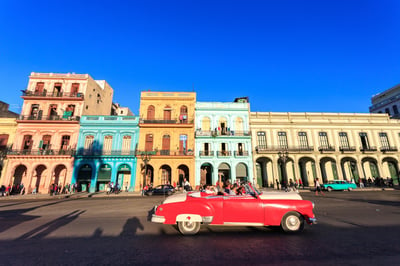 President Obama made good on his pledge to loosen trade and travel restrictions with Cuba in March by a long-awaited visit that signaled goods, services, and tourists will soon be able to move freely to and from the small island nation just 90 miles south of United States. And would-be travelers wasted no time in declaring their desire to visit Cuba as soon as possible, according to a recent survey conducted by the travel industry publication Skift that found roughly 25 percent of Americans asked said they plan to visit Cuba within the next year.
This means about 75 million Americans are planning to trips - business, leisure, or otherwise - to Cuba before the end of 2017; and this represents just the United States alone, which many would argue is no longer the world's largest, most influential driver in global tourism and travel.
Travel companies simply cannot afford to overlook Cuba as potentially the next big destination for tourists and travelers. In addition, markets are opening up in Eastern Europe and the Middle East, offering added potential for growth and complexity, and travel companies must be prepared to capitalize on this potential for expansion and enhanced visibility.

But is this easier said than done? Perhaps...

So, what strategies does a travel company deploy to promote growth and ROI in emerging markets? What advantages do they leverage to ensure success in these new, often untested markets? Here are 3 overarching principles travel companies must embrace to gain a scaleable foothold in these new and developing markets.

Thinking Socially About Technology

It all starts with technology. While that may seem obvious in a multi-channel, user-centered industry, many companies still don't fully realize the importance of incorporating intelligent planning solutions. Of course, utilizing the right travel ERP system is vital in streamlining planning and operations strategies; optimizing data sharing and reporting; managing personnel; and evaluating the value propositions of leveraging certain actions and business strategies. ERP systems and their capacity to provide real-time, detailed analytics and reporting also gives travel companies key insights into the shifting demographics and make-up - social, economic, and cultural - of today's traveler to better create targeted messaging and marketing campaigns.

But companies must think more holistically about how they conceive the term technology. Applications such as social media, mobile and smartphone apps and capabilities, and the concept of Big Data - large data sets gathered by intelligent systems to help uncover customer patterns and profiles - are key drivers in increasing customer engagement and driving growth and profitability.

Websites like Facebook, Twitter, and Instagram not only allow for direct interaction between companies and their customers, but they also allow for real-time feedback and analysis on how customers respond to certain kinds of messaging. Smartphones and their ubiquity across much of the globe have also changed the way travelers seek out, book, review, and recommend trips or destinations - recent surveys have showed more than 80 percent of travelers regularly use their phones to access travel-related web resources while traveling, with another 30 percent citing travelers utilized mobile apps to book small excursions or even large-scale vacations.

Companies looking to expand into new and emerging markets like Cuba must incorporate social media and mobile capabilities into their existing tech solutions if they hope to succeed in untested markets where the needs and wants of the traveler have yet to be fully defined.

Different People Travel Differently

Like starting a new company or enterprise, you have to do your homework in order to discover who your audience/customer is, what they desire, and how you can best offer products and services to satisfy those desires.

For example, let's look at static versus dynamic packaging especially in relation to our emerging market in Cuba. If an OTA is attempting to capture millennial travelers, many of whom are looking for affordable, quirky travel destinations and activities, static or traditional packaging might be a more effective method of reaching them as they can add, subtract, or alter bookings as their budgets and whims dictate. However, the Baby Boom generation, with its larger income pool and more conservative travel habits, may respond better to dynamic packaging where travel options are presented in one clear, concise bundle.

In addition, companies must also take into account the limitations, liabilities, and advantages of their new market. With Cuba, for example, understanding the need for infrastructure improvements, enhanced internet networks, and increased transportation options for travelers are key drivers in leveraging local partnerships and collaborations to offer customers as satisfying an experience as possible.

Go Local

Whether metaphorically or literally, understanding the complexities of a new market's culture and traditions is vital in understanding how to best message that market's attributes as an up-and-coming destination. Elementary as it may seem, expanding a travel company into a new market is similar to starting a new company, and companies must do their due-diligence to uncover the particularities and nuances of each culture to best present travelers with viable options to experience said culture.

Sourcing goods and services from local businesses, vendors, and organizations not only provides travel companies with a 'boots on the ground' strategy for truly understanding the ins and outs of a new market and its indigenous culture, but it also helps to streamline communication, enhance collaboration across the value chain, and build lasting business relationships that could prove essential for growth as the new market matures and develops. Localizing services and planning can also help reduce overall operation costs and the potential for human error by increasing value chain visibility and transparency.

Local third-party vendors will also have valuable insight into the laws, restrictions, taxes, and required levels of travel documentation within the new market, which would be of great value for would-be travelers but also for travel companies as learning about and understanding these subtleties can often come at great expense in terms of resources and personnel. Simply put, if you understand the culture, you understand the market, and companies need to do their homework and rely on local partners to leverage this all important strategy.

The Endgame?

It's difficult to predict exactly how Cuba will develop as new, emerging market for travel companies - and only time will tell how this destination will be embraced by travelers and what the evolutions and maturations of this island nation will look like. But as we've seen during the last few years with the BRIC markets - Brazil, Russia, India, and China - travel companies that have embraced these tenets have best positioned themselves for success in new and foreign lands.

Dive into the travel industry! Explore useful insights and trends through our free eBooks now!