World Travel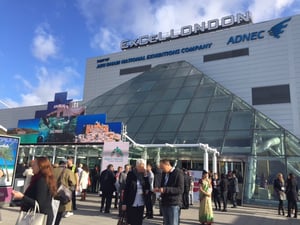 Market London has come to a close and dcs plus team is back in the office, celebrating the outcomes of a successful event. The travel fair, which had been revamped this year as a three-days event – between 7 and 9 November in the ExCeL London Convention Centre, once again exceeded our expectations.
According to the organizers, WTM London 2016 was the most successful ever, having an estimated attendance of over 51,000 (around 4% more compared to last year's edition) – the highest number of exhibitor invitees and buyers in the event's 37-years history. The show attracted over 31,000 visitors and brought together the most important decision-makers in the global travel industry.
As stated by Mr. Simon Press, WTM London Senior Director, 'More than £2.5 billion in industry contracts were agreed at WTM London 2016 with more than 9,700 buyers conducting 865,500 meetings with 5,000 exhibitors.'
Over the three days of event, various topics in the travel industry were discussed. Emerging destinations, aviation, sharing economy, responsible tourism, health and wellness travel, technology solutions, mobile, social media and web marketing were among the subjects covered in this edition of the show.
Travel technology was, as expected, a hot topic during this years' WTM. Online travel continues to grow across the globe, but at a lower rate than before, airlines remining the leading online travel category. Mobile purchases have a significant share in the total volume of online sales. At this year's edition of the fair, we noticed an increase in the quality of visitors present – they seem to be more educated and knowledgeable, better understanding the massive transformations taking place within the industry.
Even if traditional travel agencies and retailers still struggle to go online, yet they realize that being there is not enough anymore. They understand that they should leverage technologies that help them differentiate through superior offerings, added value and improved experience for the end users. A 'me too' business model won't work anymore – they realized that they have to change and adapt their products and services to cater to today's travelers' sophisticated demands. Travelers are savvy, open-minded, have high expectations, are always connected and expect personalized experience. It's easy for them to get access directly to the desired services and it is increasingly challenging for the industry players to satisfy their needs.
Travel agencies know that they must redefine their roles and transform the way they conduct business. Acquiring new customers and retaining the existing ones depend upon their ability to adapt and differentiate. Thus, travel players should deliver superior value and quality of service, optimize and control costs through processes automation and increase sales by leveraging all the distribution channels available. The only viable way to achieving these, is by taking advantage of the travel technologies available.

---
This year's edition of World Travel Market ended on a high optimism: despite the instability and turmoil that put pressure on the travel environment (terrorist attacks in Europe, political uncertainty, Brexit, the refugees crisis – to name just a few), travel remains strong worldwide – the industry is still positive and optimistic for 2017. Leaders in the travel industry foresee a significant growth in the next year.