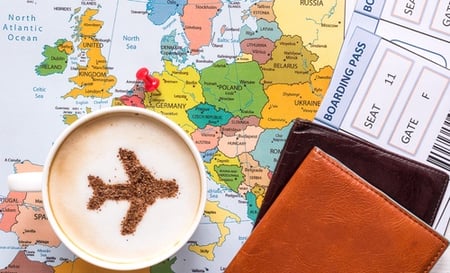 Budget. Adventure. Experimental. Millennial. The population of today's travel industry is fragmented into so many different niche categories or markets it can be difficult for travel agencies, tour operators, and other travel management companies to effectively position themselves as a value proposition to each of these unique, varied market segments. And now the travel and tourism industry may have to further diversify its outreach and customer relations efforts with the rise of yet another idiosyncratic breed of tourist: the culinary traveler.
During the last five or so years, the culinary traveler - and food tourism in general - has become a major player in the travel industry, driving growth and expansion in current and emerging markets as more and more travelers seek to experience different cultures through food and food and beverage-based activities.
Much like the millennial or adventure traveler - in fact, these two market segments often overlap to some degree with culinary travelers - food tourists desire local, unique, and individualized travel experiences rooted in a deeper understanding and appreciation of the destinations they visit.
But is this just a fad? Is culinary tourism a passing trend? Does food tourism have real staying-power in terms of driving global travel concerns, and how much attention should travel companies pay to this new brand of traveler?
Here are a few things to know about the rise of the culinary traveler that may help clarify and answer these questions.
Food Tourism is Big Business
A 2013 study titled the American Culinary Traveler Report issued by Mandala Research cited more than a ten percent increase in the culinary tourism from 2006 to 2013. In addition, the report also found roughly 39 million U.S. leisure travelers choose travel and tourism destinations based primarily on their desire for food and beverage experiences, and another 35 million travelers reported seeking out culinary-based activities in the cities and countries they visit.
Food tourism is big business and travel agencies and tour operators can ill afford to ignore numbers like these when deciding how to position themselves to capitalize on current trends within the travel industry. What's perhaps even more staggering is that these statistics focus only on U.S. travelers and fail to include the fact that global food tourism is a $150 billion per year market, according to the World Food Travel Association.
The WFTA also reports culinary travelers on a global level are young, affluent, and primed with disposable income, and while this population of the travel industry may only take one or two leisure trips per year, they often take extended trips and are more apt to spend larger sums of dollars during these trips to have unique, culturally-rich experiences.
Authenticity is Key
As we discussed above, the culinary traveler, much like the millennial and adventure traveler, seeks authenticity in their destination and food-based activities. Whereas travelers in past generations may have opted for the five-star hotel restaurant or the gourmet wine and cheese pairing event, culinary travelers are more interested in the local food experiences often usually reserved for the middle and lower-middle class residents of the place travelers visit. Farmers markets, food stalls, food trucks, pubs, and other more native food venues represent a sense of time and place for today's culinary traveler, who is more predisposed to these type of food experiences than those in the fine dining world.
But authenticity is only one part of the equation. Culinary travelers also seek to explore the artistry, traditions, and heritage surrounding the food and beverages of a specific city, country, or region, as well as the people who create the food and drink of a certain place. Chefs, winemakers, brewers, farmers, and other artisans are held in high regard by today's food tourist, and while the gourmet wine tasting might be a thing of the past, a behind-the-scenes demonstration of how the wine and cheese is actually produced is much more appealing to food tourists who desire to know more about the ingredients and processes of the end product.
The Hot Spots Are Everywhere
The WFTA's report - along with a number of other trend reports and industry analyses - indicate the hottest destinations right now for culinary travelers are primarily Central and South Asia - countries like Vietnam, Singapore, Thailand, and others. Japan, China, and other countries in the South Pacific are also emerging markets for culinary travelers who seek to experience the intense, complex, and layered flavors of cuisines native to these countries.
But it's not just the regions of the far east that are attracting food tourists - in fact, food tourism, perhaps more than other market segments, is a global phenomenon with choice destinations spread across the globe. While many food tourists may not think of the United States as a prime destination, the WFTA's report highlighted a number of U.S. cities as some of the most vibrant and highly sought-after food-based destinations for the culinary traveler.
The top three most enticing cities in the U.S. included New York City, New Orleans, and San Francisco, with Chicago and Napa Valley - most notably for its wine production - rounding out the top five.
Major European hubs were also cited as major food tourism hot spots in the WFTA's report, including more well-known destinations like Paris and Madrid, though London and several cities in Germany also made a strong showing among respondents.
Are Culinary Travelers the Real Deal?
So, what's the verdict? Are culinary travelers here to stay, or is this a passing trend born from the increased interest in food and food culture in a larger societal context? It may be hard to judge either way, but even so the data suggests culinary travelers are a major player in today's travel industry both in terms of population and dollars spent each year. And it's hard to imagine this market segment decreasing in the short or mid-term future, especially with the emergence of younger travelers from countries like China, Mexico, and Cuba and the growth and interest in these markets as new and exciting destinations.
With that in mind, it's difficult to understand why travel companies and tour operators would ignore the rise of the culinary traveler, and why they would not position themselves in a way to appeal to this segment of today's global travel and tourism landscape.
Who are the millennials and why are they important to your travel business?