In the first entry of our series on the evolution of the travel industry since 2002, we looked at the traveler and how their needs, desires, tools, and buying behaviors have shifted during the last 14 years. We examined how advances in personal and industry technology have made it easier than ever for travelers to become an integral part of the travel industry rather than just observers watching from the sidelines.
Today's entry, the second in our three-part series, will focus on the major industry players, their history, evolution, and impact on the global travel industry. The companies and organizations we've chosen to highlight have in one way or another made significant contributions to the growth and development of the industry and have left an important mark on how the travel industry operates today.
The beginning of the 21st Century was without a doubt an influential moment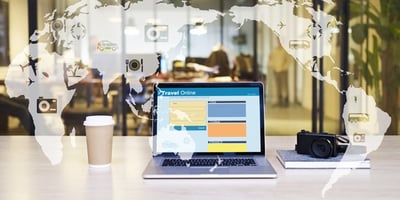 in the travel industry. With the rise in popularity of the internet, global, electronic delivery of services, products, and operational functions were becoming more and more the norm. GDS companies, OTAs, and other online-based suppliers and retailers began launching more customer-oriented services such as price comparison interfaces, digital trip planning tool, and electronic tickets and documentation to streamline processes and create more efficient, agile value chains.
This radical transformation throughout the industry sparked a wave of innovation that is still impacting how travel companies operate in 2016. The rapid evolution and development also resulted in the creation and development of a number of key industry players whose influence and impact not only ushered in industry-wise changes but also continues to affect the way travelers travel and companies operate.
But who are these major industry players? What companies came of age during the last 14 years to emerge as core brands or companies in today's global travel industry? What made them such disruptive forces in the travel industry's evolution and development? To answer these questions, here are a handful of the major players in today's travel industry and what exactly made them so influential.
TripAdvisor
Widely regarded as the first true travel booking review and interaction website, TripAdvisor was founded in 2000 and was one of the first travel sites to rely completely on user-generated content. For many industry analysts, TripAdvisor was also the first platform that gave travelers a voice - writing reviews of hotels, airlines, tours, and other bookings gave customers an outlet to express their concerns in a way where other travelers could connect, respond, and share related concerns. In today's world of social media, real-time messaging, and other ways travelers and travel companies interact, TripAdvisor is viewed as the first incarnation of 21st Century customer engagement and relations - the first wave in a movement that pushed travel companies to be more responsive and agile to the needs of the modern traveler.
Orbitz
Orbitz was founded in 2001 as one of the first large-scale online retailers for hotels and airlines. Though it has since been purchased by competitor Expedia, Orbitz leveraged the lowest online airfares from 2000 to 2001 and was the first online travel company to incorporate an unbiased flight matrix display, a development which many travel companies soon copied in an effort to offer enhanced customer service and optimal operational flexibility. In another forward-thinking move, Orbitz launched a proactive notification platform where travelers received automated alerts about flight delays, gate departure changes, and other modifications in bookings. This model not only provided increased agility and transparency for the company, but it also offered customers peace of mind in planning their trips. This real-time notification capability also helped spawn the communication and messaging apps travel companies use today to remain constant contact with travelers and customers.
Amadeus
One of the leading providers of IT solutions for the global travel and tourism industry, Amadeus also functions as a key GDS provider for travel companies around the world. Amadeus provides search, pricing, booking, ticketing, and other processing services in real-time for suppliers and travel companies through its own advanced networking systems. In 2001, Amadeus operated more than 57,000 travel agency locations worldwide and maintained the highest level of productivity across the globe. In 2010, the company processed more than 850 million billable travel transactions for hotels, airlines, and more, making it a top-tier system for a number of travel agencies and travel management companies on a global scale.
Pegasus Solutions
Though the company underwent a rebranding in 2000 from Pegasus Systems to Pegasus solutions, the company has remained a critical technology provider for travel companies, OTAs, hotels, airlines, and more. Founded in 1989, the company has since worked to provide integrated product and service delivery technologies for more than 60,000 hotel properties worldwide, making it one of the industry's largest third-party provider of reservation services and platforms. Pegasus' Utell and Unirez reservations applications are used in more than 140 countries and helped power some of the industry's most robust online travel booking websites such as Orbitz and other major booking sites. Primarily a B2B provider, Pegasus services include central reservation systems, electronic distribution services, commission processing, and payment services.
AirBnB
Perhaps the most recent disruptive company in the travel and tourism industry, AirBnB was founded in 2008 and has ushered in a new wave of peer-to-peer travel bookings based on a user-generated marketplace. Originally conceived as corporate travel alternative to a saturated hotel market, the company now has more than 1.5 million listings, operates 34,000 cities, and has rentals in more than 190 countries. What's made AirBnB such an impactful development in the travel industry is its reliance on travelers connecting with other travelers to offer and book accommodations for a processing fee without any help or support from traditional travel agencies or travel companies. Unlike the more conventional models of supply and demand - which is based on scalability of inventory - AirBnB scales by simply increasing the number of hosts in the hopes of finding travelers to connect them with. User reviews are the primary drivers in terms of the accommodations offered, which is perhaps in the most recent incarnation of the model started by TripAdvisor at the turn of the century.