In the previous entry in our series on the evolution of the travel industry since 2000, we focussed on the major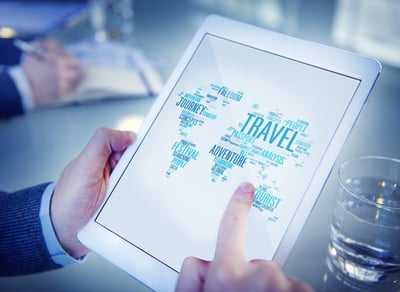 players in the travel and tourism industry and how these companies and organizations have shaped the industry of today. We also discussed how their impact has influenced the way customers experience travel on a global level.
In today's third and final installment, we'll examine the most influential technologies within the travel industry and how their evolutions have impacted both travel companies and consumers. Our goal is to focus on the most important moments in the progression of travel technology to highlight just how much the travel and tourism industry has changed in a relatively short amount of time.
Technologies develop quickly. What was state-of-the-art or revolutionary one day is out-of-date the next, and the technologies that have had the greatest impact on the travel and tourism industry are certainly no exception. Since just the year 2000, the technological platforms available to both companies and customers has significantly transformed the way travelers travel and companies operate.
Think about the travel industry just 15 years ago: Much of the transactions and operational methods relied heavily on Excel spreadsheets, manual data entry and storage, and hardcopies of documents and receipts. Travelers looking to complete bookings would consult brick-and-mortar travel agencies and tour operators used brochures, pamphlets, and other physical materials to market and position their services.
Fast forward to 2016, the entire industry - from travel company to tour operator to the customer - is almost entirely dependent on digital technology, mobile capability, and instant, real-time access to up-to-the-minute, accurate information about the status of bookings, products, and services. Because of these advancements, today's travel industry operates a more efficient, streamlined value chain where travel companies and customers have an equal voice in which products and services are presented and how suppliers position these products.
In order to understand how the travel industry made such giant leaps in its technology journey, here are 5 big moments in the evolution of travel technology during the last 15 years.
2000
The year 2000 saw one of the most influential developments within the travel industry: the founding of TripAdvisor. Thanks to the rise, growth, and reach of the internet, TripAdvisor launched as the first true travel booking review and interaction website. As one of the first travel sites to rely completely on user-generated content, TripAdvisor was also the first platform that gave travelers a voice - writing reviews of hotels, airlines, tours, and other bookings gave customers an outlet to express their concerns in a way where other travelers could connect, respond, and share related concerns. In today's world of social media, real-time messaging, and other ways travelers and travel companies interact, TripAdvisor is viewed as the first incarnation of 21st Century customer engagement and relations - the first wave in a movement that pushed travel companies to be more responsive and agile to the needs of the modern traveler.
Obviously, web-based solutions were perhaps the largest component in TripAdvisor getting off the ground, however, advanced search capabilities and integrated booking engines were also critical drivers in helping TripAdvisor succeed and spawn a number of similar or like-minded companies.
2001
While the tragic events of 9/11 may seem like an odd element to the development of travel technology, the long-term impact of those events not only shaped how travelers travel but also the technologies deployed in getting customers from one destination to the other. Because of the need for instant, real-time access to information about flights, hotel availability, and tour cancellations or alterations in the days and weeks following September 11, travel companies were pushed to leverage powerful, web-based computing and communication channels to keep travelers informed and updated on travel conditions. One could argue the desire for fast, simple communication of information and bookings is a precursor to instant messaging and in-app communication tools travel companies deploy today to manage customer relations and relay information.
Essentially, 9/11 encouraged the travel industry to use communication tools and searching and booking engines in more robust and efficient ways. This not only resulted in a more responsive, efficient industry across the board, but it also helped influence many of the app-based and mobile technologies travel companies and customers rely on today.
2007
Perhaps the most truly disruptive technological advancement in the travel industry, Apple's iPhone and IOS debuted in 2007 providing customers with the first glimpse of just how travelers could research, book, and review travel bookings from the palm of their hand. It may seem difficult to remember a time before apps, messaging, and social media platforms were simply a given, but prior to 2007 travelers had very little in the way of mobile capability. Travel bookings were completed on desktop or laptop computers, which had a fundamental impact on customer buying behaviors - travelers were more apt to seek additional input from travel agents or tour operators, and they also were less inclined to impulse or in-the-moment purchases and bookings.
The debut of the iPhone also was the first step toward a host of technological advancements such as digital payment capabilities and the advent of the tablet, which gave customers more power and control in curating their travel experiences.
2008
In 2008, one website ushered in a new wave of peer-to-peer travel bookings based on a user-generated marketplace.Originally conceived as corporate travel alternative to a saturated hotel market, AirBnB now has more than 1.5 million listings, operates 34,000 cities, and has rentals in more than 190 countries. What's made AirBnB such an impactful development in the travel industry is its reliance on travelers connecting with other travelers to offer and book accommodations for a processing fee without any help or support from traditional travel agencies or travel companies. Unlike the more conventional models of supply and demand - which is based on scalability of inventory - AirBnB scales by simply increasing the number of hosts in the hopes of finding travelers to connect them with. User reviews are the primary drivers in terms of the accommodations offered, which is perhaps in the most recent incarnation of the model started by TripAdvisor at the turn of the century.
2012
Though first launched several years prior, social media juggernaut Facebook reached 1 billion users in 2012, making it the most widely-used social media platform across the globe. Facebook provides both travelers and travel companies with direct lines of communication and sharing capabilities to discuss, recommend, and review travel bookings and destinations, all of which have become important elements of how customers experience travel. But Facebook also helped usher in other social media platforms such as Instagram and Twitter, both of which have further connected travelers and travel companies. Since its early inception - some would argue TripAdvisor - social media has pushed travel companies to become more agile, responsive, and transparent in providing services and feedback to customers. Because social media is now so common across a wide variety of platforms, travel companies and customers can interact real-time on nearly a 24/7 basis, which has further pushed the industry to operate with greater ease and speed.
Given how far technology in the travel industry has come in such a short amount of time, it's difficult to predict what disruptive technology platforms are on the horizon. More powerful computing engines, quicker bookings engines, and enhanced communication lines are most certainly in the mid to long-term future of the travel industry, but it's still interesting to ponder what the next big innovation will be and how travel companies and customers will respond.