Let's examine a very common scenario in today's travel industry: Your customer is browsing a travel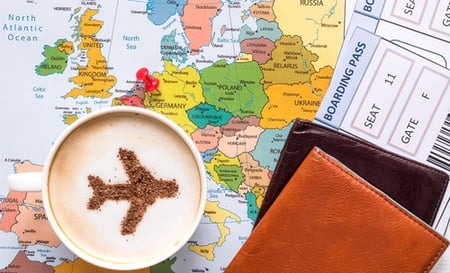 package or destination on your site, has done their research, is fairly confident your site is offering the best value, but is still unsure about completing the booking. Their virtual shopping cart is loaded, yet there's still something holding them back from completing their purchase. How does a travel company entice or encourage this customer to click 'buy' and complete their booking? How does a travel company make the buying process simple, fast, and efficient?
What we're talking about here is conversion. The scenario we described above plays out thousands of times a day in the travel industry for online travel agencies and companies in their quest to enhance online conversion rates, increase revenue, and build brand loyalty. But what's an OTA to do to drive conversion in a competitive online landscape? How do they reconcile this situation? How do they turn probing clicks into purchases? How do they stimulate their conversion rates and leverage these successes into a jumping off point for sustainable growth and competitiveness?
To answers these questions, let's first examine in greater detail the conversation about conversion before we explore how OTAs can increase conversion rates and drive more customers to complete purchases and become repeat customers.
The conversion and abandonment conversation
Let's first examine a few startling statistics about conversion according to the travel publication Skift:
The average online customer engages in roughly 50 searches for a specific booking or destination.

Most travelers will make approximately 38 visits to various travel websites before completing a booking.

Abandonment rates in today's travel industry currently sit at roughly 74 percent, which is about 3 percent greater than other e-commerce industries.
It's pretty easy to understand why conversion rates can be an uphill battle for online travel companies. The amount of information and feedback customers are exposed to make it ever more likely they'll drop a package or booking into their cart, but never actually complete the purchase, thus increasing an online travel company's abandonment rate. But why are abandonment rates so high? Where is the disconnect between attracting a traveler to your website and converting that traveler into a paying customer?
Many factors beyond the website itself influence conversion rates. Smart phones and tablets produce much lower conversion rates than laptops or desktops due to the rapid nature of these devices. Essentially, while more and more travelers are booking travel via mobile platforms, more and more travelers are also using mobile devices as a method of quick research and sourcing of potential destinations in an on-the-go context.

But just like in real life, comparison shopping has become a huge part of the online travel industry whereby travelers spend more and more time pitting online travel industries against each other in order to search out the best value. And while many within the travel industry view comparison shopping as a death knell for online travel companies who may buckle under the weight of competition, it turns out comparison shopping can actually function as a value proposition and an opportunity for growth.
OTAs must realize comparison shopping is really only a danger when success or failure is measured by conversion rates alone. Savvy OTAs have recognized the need to shift their metrics for success from revenue per purchase to revenue per user or per search, which, while more broad in scope, allows for more dynamic modes of revenue generation such as pay-per-click advertisements (PPC) and other integrations on a travel site.
At the end of the day, the best value, most efficient online shopping experience, and fastest transactional rate will drive travel browsers into paying travel customers.
How OTAs can drive conversion
The online travel industry is a fragmented proposition where customers dip their toe in the waters little by little before completely investing in a destination or completing a booking. As such, OTAs must recognize this nonlinear method of purchasing travel as a critical challenge in fostering higher conversion rates and reducing the number of abandoned travel arrangements. Email campaigns, ebooks, whitepapers, and other pieces of content triggered by items resting in shopping carts are fast, inexpensive ways to keep the conversation going and touch base with customers who may still be weighing their options.
However, OTAs can also deploy a number of important strategies to maximize their conversion rates and leverage cross-organizational growth. In general, optimizing an OTA's web, mobile, and social media presence are key drivers of conversion growth. But more specifically, online travel companies can achieve higher levels of optimization through:
A responsive website and mobile platform. OTAs must deliver and maintain a responsive website. Today's traveler engages with travel websites across a host of platforms and devices and online travel companies must deploy sites that can successfully and dynamically function with this smartphones, tablets, laptops, and others. Given the digital nature of today's travel marketplace, customers place a high value on the functionality of an OTA's online presence and the ability of an OTA to administer a secure, fast, and efficient online exchange.
Intelligent search capabilities. Online travel companies must leverage search technology that is clean, clear, accurate, user-friendly, and capable of engaging with the customer via auto fill-in capability, recent search memory, and other functions that ease the buyer's journey. Ensuring an OTAs database of products and services is dynamic, updated, and in alignment with their suppliers is also key in avoiding costly booking errors, misallocation of products and services, and disruptions in the buying process.
Varied transactional options and payment methods. Part of enticing customers to move travel bookings from their shopping cart to the check-out is offering customers varied transactional options and payment methods that appeal to as wide a cross-section as possible of the consumer base. With so many available payment methods in today's ecommerce landscape, travel websites must be able to accommodate these options. In addition, forms and other points of data entry should be clear, clean, and simple in order to facilitate smooth transactions and encourage travelers to recommend your website to others.
While these may seem like simple points of discussion, there are still many OTAs who struggle with implementing these capabilities and capitalizing on the value propositions they provide. In today's global online travel marketplace, managing these functionalities and understanding how they factor into conversion is a core driver for growth and profitability in both the short and long-term.