If there's one emerging trend in today's travel industry, it's that business is exceeding pleasure.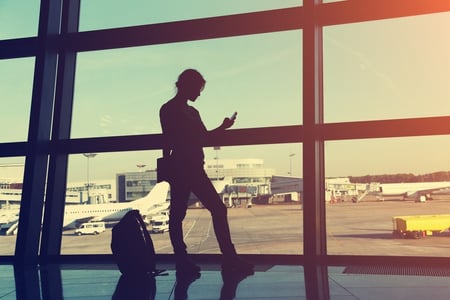 A recent report issued by the U.S. National Travel and Tourism Office found business travel from top overseas markets increased by more than 15 percent in 2015, a growth rate much higher than that of leisure travelers. The report estimates leisure travel from top markets grew at a rate of just 9 percent, a figure that undercut projections from industry analysts.
But it's not just the U.S. market that experienced an increased of business travelers at the expense of leisure travel during the last year. European countries such as France and Germany also saw sharp increases in the number of business travelers, as did markets further east such as Japan and Australia.
In today's global marketplace, corporate travel has been a consistent area of growth for travel agencies and travel management companies (TMC). However, this growth has pushed companies within the travel industry to adapt to a very specific set of needs and desires for corporate travelers. Speed, flexibility, agility, and variety are prized in the corporate travel sector where travelers are operating on fixed schedules and budgets. As such, travel agencies and TMCs have created specific strategies and technological platforms to best serve these needs.
But what are these needs? What does today's modern business traveler require from a travel agency or TMC? Here are a few of the top needs for today's corporate traveler.
Mobile Capability. Whether it's researching travel packages or bookings, creating or altering itineraires, or seeking customer support to modify bookings, mobile capability is at the top of the list for today's corporate traveler. Travel agencies and TMCs who leverage a robust mobile platform capable of keeping travelers in touch at each stage of the purchasing journey are better suited to field a larger customer base and increased growth. While mobile capability is a prime driver for all corporate travelers, it's particularly true for millennial corporate travelers who have grown up with mobile technology and expect this capability from any travel business.
Digital Payment Options. Like mobile technology, digital payment options and the complete digitization of the purchasing process is key when appealing to corporate travelers who don't have the time to deal with traditional paper documents. In addition, digital payment options offer travelers the flexibility of varying payment methods and provide travel companies with real-time data and reporting about travelers' purchasing trends and buying history. These metrics are key to helping travel companies position products and services of most use and interest to corporate travelers.
Advanced Search Capabilities. Auto-fill searches. Past search history. Advanced or more specific search criteria. These value-added capabilities make it easier for the corporate traveler to source and research the bookings they need, which directly translates into a greater percentage of conversions and fewer instances of abandoned bookings. If a traveler is searching for a hotel equally distant from the airport as the convention center, an advanced search function to find such a hotel is a core driver in meeting this traveler's needs and establishing a lasting businesses relationship with him/her.
Efficient Processing. Cancellations happen. That's just part of the travel industry. But a travel company's ability to efficiently and effectively facilitate booking modifications or rebookings is crucial for corporate travelers who often travel on tight deadlines and financial constraints. Advanced travel ERP systems and suites are the best solutions for TMCs and, this way, travelers can achieve the professional objectives of their corporate travel and have a good personal experience at the same time.