A great deal of the discussion around travel technology involves highly visible customer-facing solutions: travel apps; responsive websites; social media and the like. Operational technology, focused on helping management and staff run the business, tends to get overlooked. A perfect example is enterprise resource planning (ERP) systems specifically developed for the travel industry. An increasing number of travel agencies, tour operators and TMCs are deploying them, but there's not much discussion about this technology in general travel media. If you aren't familiar with the Travel ERP topic, you need to be: the trend for these systems isn't based on hype or superficial value; it's driven by real process benefits and significant competitive advantages.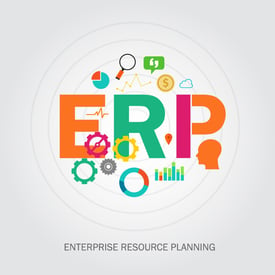 Who's buying these systems? One vendor described recent customers as those with software that generated costs rather than reduced them and couldn't provide reliable sales forecasts or demand planning numbers. It's not an exceptional circumstance: successful travel companies founded more than ten years old often find themselves with travel technology that fit this description, because ten years ago travel-specific ERP software for mid-sized companies was just starting to emerge.
Prior to that time, travel companies invested in separate software applications for essential capabilities such as ARC/BSP, GDS, travel accounting and procurement. As those companies grew, so did associated costs – because transferring information between the applications was typically a manual task. Quick, reliable, reporting became problematic for the same reason - manual activities were needed to pull data together in a master spreadsheet. Here are some specific examples to illustrate these points:
Supplier Invoices: a common situation where manual tasks are needed to overcome silos of information is the management of supplier invoices. Automated processes for a supplier invoice, requires integration between a payables application and a procurement system: enabling the invoice amount to be authenticated against supplier pricing tables. When the payables and procurement systems don't communicate, people have to bridge the gap with manual steps to authorize payment.
Agency Commissions: a very similar situation occurs with billing an agency commission: only by calculating activity levels (e.g. sales revenue; passenger counts) and applying it against a vendor's commission schedule (flat, tiered or some combination) can the vendor's commission billing be determined. Unless all associated systems are well integrated, this process will be filled with manual activities.
Product Pricing & Availability: if a travel agency's software doesn't integrate with a supplier's (e.g. tour operator) inventory and distribution management system, the critical actions of confirming pricing and availability must be done by that agency's staff. This is inefficient in many ways: the person's time; the opportunity cost – the agent cannot move to the next customer; human errors; and inability to scale – staff becomes a bottleneck when sales increase.
Why Travel ERP Makes Sense
At the heart of ERP is software designed to optimize the flow of transaction, product and operational data between various workflows, locations and geographies. The software is architected as an integrated suite of applications. This suite replaces silos of isolated data and business activities with a common data model and standardized, automated processes - for operational areas formerly supported by diverse software applications. Common data and standard processes create an environment in which operational data can be timely, reliable and consistent. But what does this mean in terms of specific benefits? Here are some examples:
Client & Suppliers: leading Travel ERP systems will use web services technology to integrate with third party software, enabling it to: manage requests, quotes and sales across channels; automatically generate associated travel & fiscal documents; and leverage reporting tools to provide reliable management information.
Workflow Optimization: these systems enable travel businesses; for instance, a travel agency, to standardize and automate their workflows. As an example, invoice and payment information is automatically managed, eliminating the need for manual reconciliation activities. These workflows become highly scalable, and a common data model means management not only has more accurate operational information, it also has more visibility into, and control over, activities taking place in the business.
Reporting: leading systems have powerful reporting tools which, combined with common data across the enterprise, allow managers to; estimate and forecast; organize, plan and control; make highly informed decisions to improve operations, increase revenues and elevate profitability.
Of course, these advantages have to be weighed against the investment and cost of implementation. There's no question ERP systems began as large and expensive software initiatives, creating a reputation that has been slow to dispel. It's important that all businesses in the travel industry shake off that impression: it's not only outdated and incorrect, but it could delay adoption of technology capable of delivering significant competitive advantages.
By way of illustration, dcs plus offers TINA, one of the most advanced web-based travel ERP systems in the world – currently deployed in hundreds of travel agencies across multiple markets. Every one of those agencies is now competing in the marketplace with a highly efficient, information-rich, scalable application suite.
Can your travel company say the same thing? If not, isn't it time to take a closer look?