During the past decade it has certainly seemed to be the case that disruption has been experienced to a far greater degree on the leisure side of travel rather than business s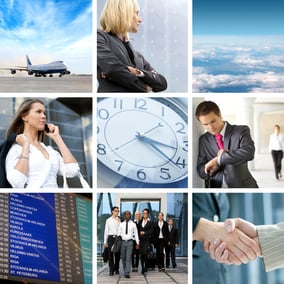 ide. Leisure travel has been impacted by OTA and witnessed the role of the travel agent - though still a force now – reduced in decision-making influence to that of friends, family and social media.
Business travel has certainly seen change, particularly in the Travel Management Company (TMC) sector where consolidation has changed the face of the industry. Yet business travel has not seen the disruptive type of change that has re-shaped leisure travel by transforming business models. However, in the travel management sector, that may be starting to change.
The leisure travel business model was more vulnerable to disruption because travel agencies arrange discretionary travel rather than managing travel tied to company activities and timelines.
There is a huge difference between arranging and managing: when a business traveler needs to be at a client site in two days, cost is less of a decision factor than when the plane is scheduled to land; when a family is planning a vacation three months into the future, flight layovers and arrival times are typically trumped by cost.
The travel management sector has grown as these companies have become increasingly effective at delivering customer value in the areas of: travel bookings via intuitive, online sites; performance, lowering costs through supplier negotiations and leveraging economies of scale; management, enforcing travel policies and utilizing effective reporting tools.
The tradeoff in this value proposition is felt by the employee traveler, whose air carrier and lodging preferences may not be the same as those of his company's travel policy. Even if preferences do align, many Travel Management Company booking sites often don't measure up to the convenience of an OTA (of course, the OTA isn't burdened by restricted options, imposing policy constraints or approvals). Add to the mix the employee's awareness he has no choice but to accept the tradeoffs and the result is less than ideal, but necessary.
Disruption on the Horizon
Now there's evidence of disruption beginning to appear in business travel in much the same way it occurred in the leisure market.
Low Fares & Rates: with the move of global online booking sites into corporate travel, low fares and rates will be an expectation, not a differentiation, similar to what is now the case in leisure travel.
Re-engineered Support: while VIP services for high level decision-makers will likely remain unchanged, there is a growing trend away from call center models; where clients are charged by the call, and toward online and mobile platforms. In those instances where agent support is required, low cost (e.g. Teleperformance & Working Solutions) alternatives to call centers are often used.
Technology: just as in the leisure market, innovative uses of technology to meet business traveler needs are beginning to make their mark as new ways to deliver value and differentiate. One clear trend is an emphasis on platform technologies that deliver seamless functionality and user experiences across smartphone, tablets and PCs. The point is to make all TMC services digital and much more self-service.
A specific example of how this new technology is elevating the user experience is:
TravList – a mobile app from dcs plus which has proven to be extremely useful for corporate travelers (and leisure travelers as well). This app provides a paperless travel experience as it holds essential travel information in one place, including:

Real-time flight alerts, status, departure and arrival notification. Plus, information on delays, gate changes and flight cancellations.

Complete itinerary information covering the traveler's: flight, hotel, rental car and transfer services.
In addition to self-service features, another benefit of making the TMC user experience much more digital is management reporting becomes more accurate, timely and analytical.
Where's the Opportunity?
That's the right question to be asking because the flip side of disruption is almost always opportunity. When business models in the travel industry start to change the new order is rarely the same as the old order. Some companies adapt, some don't and new competitors come into the marketplace.
The key to seizing disruptive opportunities in the Travel Management Company sector is making the necessary technology investments to achieve two essential objectives: a robust platform, similar to that described above; reduce operating costs to the lowest possible level, enabling highly competitive services without endangering profitability.
A good example technology which meets this criterion is TINA by dcs plus, one of the world's most advanced web-based ERP systems for the travel industry. TINA travel ERP system is a comprehensive platform for TMCs and other travel businesses; it creates operational efficiencies by standardizing workflows and cut operating costs by business process automation.
Although efficiencies and cost reductions seem to be self-evident steps to take during disruptive times, many companies fail to see the connection between aggressive marketing of new, innovative services and protecting profitability with equally aggressive cost controls.
An advantage of a system like TINA travel ERP by dcs plus is that it provides a clear path to workflow standardization and business process automation while establishing a platform for integrating new technologies and travel partnerships. Global TMCs that have used TINA to achieve efficiencies, lower costs and better user experience include Egencia, Lufthansa City Center and HRG.