Whether you're a travel agency, a tour operator or a travel management company, you face the challenge of a changing travel market and the sobering reality that your competition is not standing still. In order to grow, your company has to aggressively find new product and service opportunities, adjust quickly to changing economic conditions and stay ahead of competitor strategies. The travel industry is complex and no single operational dimension will be the deciding factor for how well these challenges are met, but certainly a company's software system will play a major role.
Many travel companies have discovered ERP systems are quite useful because they can standardize many processes and increase the efficient flow of information. Bringing efficiencies to travel back office and front office operations produces higher productivity and lower costs; effective use of operation information is essential for good management decision-making. When ERP systems first emerged, they were associated with manufacturing operations and supply chain management. Over time innovation opened up the technology to service industries such as travel.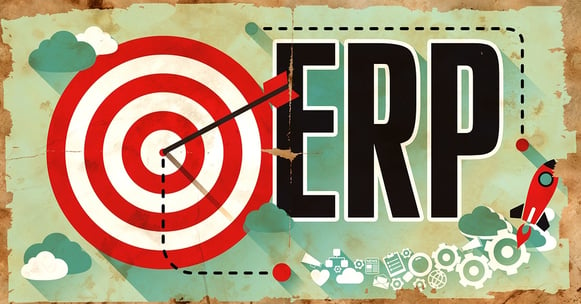 With the advent of mobility, social media, analytics and cloud technology, serious questions became to be heard about ERP's relevancy in these new ways of doing business. While few doubted its capability to continue providing value in process efficiencies and data management, would it be able to remain a differentiator for competitive success – or would lengthy deployments, high maintenance costs and difficult customization handicap enterprises and leave them behind their competitors?
ERP vendors have responded to those concerns by transforming the technology from just a premises product to also cloud-based service, a move which allows it to provide rapid and flexible deployment and use options. New Travel ERP systems are designed for greater analytic capabilities and third party application integration. Given all these recent innovations, how can companies with legacy ERP systems be certain these investments can support growth?
Is your Travel ERP System Delivering Growth?
It's difficult to evaluate anything without a point of comparison, much less a complex software system, but there are basic questions that will reveal if new ERP systems are worth a serious look.
Are important business decisions supported by robust reports that can be quickly configured and generated?
Does management have highly available access to operational dashboard metrics?
Can the ERP system integrate with 3rd party applications without major IT or consultant interventions?
Do new product and services require lengthy and costly system customizations?
Are system upgrades disruptive, expensive and lead to underwhelming value?
Do employees have radically different user experiences accessing data and system functionality remotely rather than onsite?
Are ongoing system expense for infrastructure and maintenance producing weaker ROI justifications?
ERP Pillars that support Growth
Every ERP systems has its pluses and minuses – few will survive these questions without a few dings – but an experienced IT/business management team will quickly find the wisdom to look at new systems self-evident – or not. If it does turn out that evaluating new systems is warranted, here are some pillars for growth worth watching for.
Easy Configuration: Growth is typically associated with new business models driven by new and innovative products and services. Legacy ERP systems are generally good operational foundations, but difficult to change in support of new ways of doing business. New ERP software is designed from the ground up to deliver flexibility and adaptability, both of which lead to easy configuration in support of new business processes.
Easy to Use: Older travel ERP systems are known for complexities giving rise to internal SMEs – highly trained and/or experienced employees knowledgeable of the tweaks, tricks and nuances often necessary to do data entry, run reports or orchestrate processes. Current travel technology interfaces are much more intuitive, consistent and designed for mastery without extensive training. Further, management are empowered to run customized reports with point and click; employees are able to check orders or access information whether remotely or onsite.
Extensibility: Unlike legacy ERP, recent systems are designed to have their capabilities easily extended through other technologies. There are two important use cases for this capability.
Other ERP systems: Some global travel companies may be running several ERP instances or applications and the risk of changing more than one at a time may be prohibitive. In that case, any new travel ERP must support extensive integration points and enable application programming interfaces (APIs) to ensure that legacy data flows freely between all systems – new and old.
New applications: Innovations and advances in Big Data, analytics, social media and mobile technology are so rapid it's unrealistic to expect any ERP system to keep pace. However, it is completely reasonable to demand quick and easy integration with those third party technologies.
Real-time Business Visibility: Existing ERP typically features "vampire reports" – running business transactions during the day and only generating reports at night. This working cycle is not competitive in today's travel technology. New systems are capable of real-time data updates, providing the capability to data mine and supply reports when needed – via highly intuitive reporting and analytic features. Without this ability to react quickly to market conditions and customer behaviors a travel business cannot be competitive.
Foster Collaboration: ERP systems must make co-worker and business information connections easy to make. This capability is absolutely essential to enable effective, competitive, collaboration in marketing, sales, operations and management.
Untethered: Older systems typically require compromises to communicate with mobile devices, particularly in presentation layers and data security access. Current systems are designed to take full advantage of smart phone and tablet functionality. By supporting these devices with effective interfaces and functionality that leverages GPS, barcodes, imaging, etc., management and workers can enjoy higher productivity and create fresh data flows within the company.