The release of BridgeStreet Global Hospital's The Bleisure Report 2014 introduced a new term to the travel industry and revealed the idea of combining business and leisure travel – far from being outlandish – was a reality for a sizeable number of people and poised for growth. The report found that 83% of global business travelers take time on business trips to explore their destination cities and 37% add personal leave days to most or all of their trips. The key word to notice is "global" business travelers, because it makes all the sense in the world to maximize international airfares bought by employers.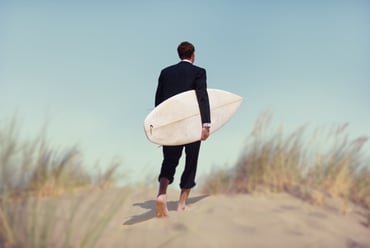 Over the course of 2015, the compelling logic of complementing business and leisure in international trips kept it primarily a global phenomenon. Domestic applications of the concept began to grow, but limitations emerged. For example, senior management was more inclined to apply it to domestic trips than middle management, simply due to their different domestic circumstances. Upper management is more likely to be empty nesters, and tacking a weekend onto a Wed-Fri business trip is much easier than juggling a weekend schedule with school-age children.
Millennials are perhaps in the best position to take advantage of this new style of travel. A 2014 Pew Research Center report said only 26% of millennials are married, compared to 36% of Gen X and 48% of Baby Boomers at the same age; so they not only have flexible weekends but are unencumbered by college or health care expenses often borne by empty nesters.
The Travel Management Company Role
Unlike purely leisure, the vast majority of business travel is booked through a travel management company (TMC) under contract by the employer. In a very real sense, it is a third party which functions as a travel procurement agent with roles, responsibilities and clear expectations in three operational areas.
Employee Travel: The travel management company is expected to create employee travel value in two ways. From a procurement perspective, the company must have the expertise to negotiate favorable pricing, terms and conditions from travel suppliers; from a technology perspective, its B2B software should support those procured services; its B2
C software should have a highly intuitive GUI and innovative features to facilitate easy employee travel planning and booking.
Cost Control: It has the responsibility to bend corporate travel costs into a downward arc and employ procurement procedures to insure those lower costs are sustainable. A key expectation is that it will drive cost reductions by applying economies of scale; a scale which should combine that provided by the TMC itself and scale from the client's own travel volumes – optimized by its negotiation skills and supplier relationships.
Compliance: Its role is expected to maximize user compliance with corporate travel policies and procedures. It is expected to provide travel technology capable of: 1) enabling client management of real-time travel policy compliance (e.g. challenging a submitted reservation that violates the policy, and/or requiring specific approvals prior to booking), and; 2) management of travel expenses and savings through real-time dashboard reporting of key performance indicators.
Challenges & Opportunities for the TMC
How will combining business and leisure travel affect travel management roles and responsibilities? It's impossible to say with any precision. The only certainty is more travel industry change is on its way and successful ones will use good customer relationships to creatively balance new possibilities with employer priorities and interests. That said, a few upcoming challenges and opportunities can already be observed.
Employee Travel: There will be real opportunities for travel management businesses to proactively suggest ways for employees to benefit in a win-win manner with their employer. For example, new software features to let employees easily see and use frequent flyer points to book spouse airfares that coordinate with their corporate bookings. Also, calendar software enhancements such that employees could import and view school holiday schedules alongside corporate travel itineraries.
Cost Control: The prospect of mutual benefits could create cost saving collaborations between employers and employees, particularly for those companies with a volume of international travel. As an example, an employer could grant leave days at the beginning or end of trips and the employee could reciprocate by traveling premium economy instead of business class. On many international routes that could save the company thousands while the employee protects vacation days.
Compliance: Perhaps the greatest challenge for a TMC and its corporate customer lies in this area. The pillars of a good travel policy are: travel is an effective business tool; rules are easily understood and fairly applied; it supports effective and transparent management. Unfortunately, the nature of this travel concept is such that not all employees are positioned to enjoy benefits equally. Will the middle manager understand their personal lifestyles make some Bleisure travel benefits problematic? Will they expect some other type of offsetting benefit? Will employees whose jobs rarely require international travel become resentful of colleagues spending extra free time in London?
This type of travel is still in its infancy and it's difficult to see how it can avoid encountering ambiguous and problematic policy areas. In some companies, those friction points may limit the extent to which this concept can be implemented. However, Bleisure travel would not be growing and generating such interest if it was not seen by all parties, in a wide range of circumstances, as a beneficial change agent.