Today's travel industry is becoming increasingly mobile. Not only are more and more travel companies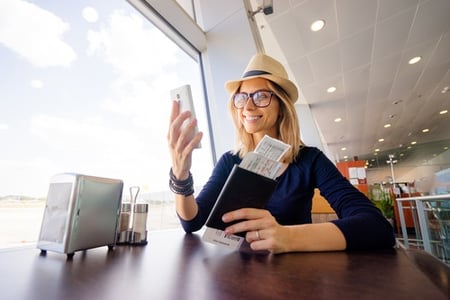 embracing the idea of mobile apps or platforms, but travelers are now more than ever before researching, booking, and reviewing travel and tourism options on-the-go. This movement has essentially pushed the entire travel booking experience into a real-time mode where travel companies and customers are communicating and engaging in the moment rather than during the span of several hours or days.
For tour operators, whose ability to leverage growth and productivity depends largely on real-time visibility and access to products and services, embracing mobile technology is a key avenue to create lasting, profitable relationships with customers. Because so many tours and activities in today's travel landscape are booked on-the-fly — for example, a customer might learn of a winery tour during a breakfast and want to book a spot on the tour for later that afternoon — tour operators who incorporate mobile technology will be able to capitalize on this new brand of customer who seeks quick accommodation and rapid responsiveness from travel companies.
Still, with all the upside mobile technology can provide, many of today's tour operators still lack a fundamental understanding of how a mobile platform can truly transform their business practices and objectives. With this in mind, let's examine how tour operators can benefit from mobile technology in creating a robust business plan to attract and retain new customers.
Creating brand awareness and trust
We've talked at great length before on this blog about how mobile apps provide a constant, real-time communication channels between travel and companies and customers. With the incorporation of social media and other sharing or review sites, tour operators can use mobile social media apps to create an army of marketers among their customers by prompting them to share posts, review tours, and discuss their experiences with other users — who could then turn into potential customers. This offers tour operators enhanced brand awareness and creates a throughline of trust and confidence between tour operators and customers.
In addition, using mobile social apps also allows tour operators to position spontaneous offers, promotions, and deals to a wide cross-section of their customer base with very little investment in capital or resources.
Optimizing the customer experience
Yes, a mobile platforms creates a more consistent line of communication, but that's not the only way a mobile app can optimize the customer experience. Imagine using a tour operator's mobile app to search for a certain activity and finding information about current weather conditions, travel conditions, nearby dining or lodging options, and other important elements of a trip. Providing customers with as much information and relevant content as possible related to a particular tour or activity goes a long way toward enhancing the customer experience and optimizing what was once a simple tour of a historical site. Now customers can tour the site, make a reservation at a local restaurant, and perhaps even recommend a tour or activity to friends all within a single tour operator app.
Increased customer insight
Because mobile apps and their functionality can be created and modified to a tour operator's individual specifications, operators can gain valuable insight into their customer pool based on the quantity and quality of interactions travelers have with an app. For example, if a tour operator app provides customers with multiple payment options but only a handful of those options are most commonly used, this allows operators to weed out less commonly used methods and also shows tour operators the value of certain payment and other POS methods for on-the-go customers. Mobile apps can also provide tour operators with a window into where their customers are engaging with their app, when, and the duration of the interaction.
Exposure to a new breed of traveler
It's well-established at this point that millennials are a core driver in the continued growth and development of mobile technology. As a result, tour operators who lack a robust mobile platform are simply missing out on a rising segment of today's traveler industry. Because so many of today's young travel customers rely largely on mobile technology, tour operators must meet these travelers where they spend most of their time in order to attract this new breed of traveler and convert them into repeat customers. Mobile apps provide tour operators with a level of exposure more traditional digital methods like a website or virtual store simply don't offer - and they do this by leveraging technology that fits comfortably into your jacket pocket.