Mobile apps and mobile technology is no longer a trend or fad in today's travel industry; rather, mobile is a mind-set, or a concrete manner in which customers engage with the travel industry. This is particularly true for corporate travelers who not only are constantly connected to the world via mobile devices, but also demand the highest levels of precision, accuracy, and responsiveness from travel companies as so much of their day-to-day interactions are based on the efficiency of getting from one place to another on time and in good order.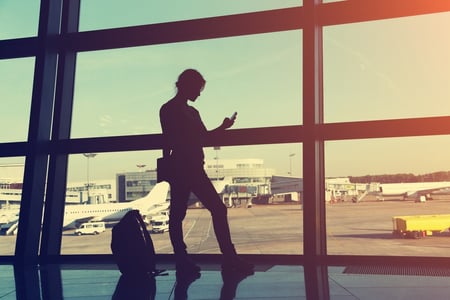 The numbers surrounding the emergence and staying-power of mobile capabilities don't lie. A recent survey found that more than 60 percent of business travelers indicated a robust, efficient mobile platform was a key driver in a successful travel program. In addition, travelers have come to expect constant connectivity from the travel industry, with nearly 90 percent of respondents indicating they expect Wi-Fi access at hotels, airports, and other common areas within the travel industry.
But it's not just today's customers pushing for a higher degree of connectivity and mobile capability. The same survey revealed traveler managers believe mobile technology will have the greatest impact on the corporate travel industry during the next 12 months. With both sides of the travel industry in agreement on the importance of mobile travel apps in continuing to revolutionize and streamline the travel landscape, it's clear mobile app technology is no longer a minor disruption, but rather a driving force in reshaping how the travel industry functions on a day-to-day basis.
With this mind, let's examine a handful of ways mobile apps impact the corporate travel sphere and enhance the overall travel experience for today's business traveler.
Customer services and communication
The average business traveler checks his smartphone roughly 34 times per day. This means a host of new opportunities for travel companies to leverage direct communication with business travelers whether through mobile messaging apps, alerts to special rates or offers, opportunities for feedback about certain products and services, and more. Not only does a personalized level of communication help build brand loyalty between customers and travel companies, it also encourages communication and feedback at every touch point of the travel booking process - from research to reviews.
Mobile apps also provide today's busy corporate traveler with enhanced levels of customer service. Cancellations or delays are inevitable. These disruptions are a part of the travel industry. However, with mobile apps, corporate travelers are able to adjust bookings and modify accommodations in real-time to avoid costly work stoppages or breakdowns in productivity. This is a value-added proposition for corporate travelers, but also for travel companies in leveraging an enhanced customer service platform where customers feel valued as part of the overall travel experience. These apps also provide travel companies the agility necessary to respond to changes or modifications in itineraries or supply.
Convenience
Let's face it: today's global travel industry can be a complex arena to navigate, especially for business travelers who may have multiple bookings as part of a single itinerary or business trip. Because so much of modern corporate travel operates on a 24/7 basis, business travelers need and expect mobile travel apps to enhance convenience and cut the complexity of the travel landscape. For example, apps that allow customers to use express check-in or check-out procedures provide travels an important value proposition in reaching their destination in a quicker, more streamlined fashion. Other elements of convenience such as digital receipts or document storing, online itinerary management, reminder or alert messages of potential disruptions in accommodations or bookings provide customers a level of convenience and peace of mind when researching, booking, and reviewing travel bookings.
Connectivity and integration
With the average business traveler so dependent upon their smartphone or other mobile device for business purposes, it stands to reason personal or leisure use of this technology also plays a large part in how often corporate travelers check and interact with their mobile device. Whether it's checking in on social media, news websites, or even gaming platforms, the integration of the mobile device and app into a traveler's daily life is a huge opportunity for travel companies to become a part of a customer's daily online interaction.
For example, imagine a travel app that provided a business traveler with information about the weather, current events, and interesting cultural opportunities at a given destination. This could mean a corporate traveler would engage with this app far beyond simply researching and booking a flight or hotel accommodation, which would allow travel companies to integrate more seamlessly into the after-hours life a today's corporate travel customer.